Monica Vinader's gemstone studded Fiji bracelets at Astley Clarke plus 7% off!
Published: August 16th, 2011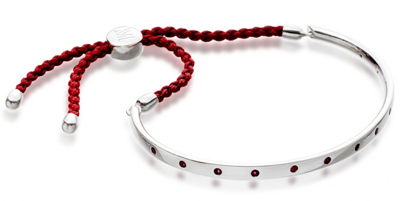 Astley Clarke's globetrotting search for the World's best jewellery designers continues this week with the launch of Monica Vinader's Gemstone Fijis.
Bec Astley Clarke is "so excited about launching the Gemstone studded Fiji Bracelets", which are available in ruby, orange sapphire and white topaz.
These stylish Fiji bracelets are playful and addictively collectible! The Gem Fiji bracelet features a sterling silver half bangle and is available in an array of colours with an adjustable cord. Designed to be layered with varying colour combinations from Monica's Fiji bracelet collection…go treat yourselves girls!
And we are also excited to announce that you can get 7% off your full price order EXCUSIVE TO MY DESIGNER JEWELLERY! Just enter the code VOUCHER7 at the basket before 31st August 2011!
Click here to take advantage of the 7% off voucher code.
Click here to checkout Monica Vinader's Gemstone Fijis collection.


Recommended Jewellery to Buy today
---