Jewellery Boxes
Every good piece of jewllery deserves a nice place to rest its diamonds. Jewellery boxes are the only way to go. Most jewellery gifts are delievered in red, velvet cases so it just makes sense that your jewellery should spend its life in an equally elegant box. Getting that jewellery hand delievered will make any girl feel like a princess and every good piece of jewellery deserves a place to hide out and preserve its shine. These types of jewellery boxes can be made of leather, velvet and they can even match the jewellery that they will be encasing. A diamond encrusted jewellery box or even a box with your birthstone can be found to make any jewellery lover happy. The best part about ordering jewellery online is that you can also order a jewellery box that fits your jewellery style perfectly. This way everything matches and it all will keep itself pretty and untangled in one place. Plus ring holders can be bought seperately so that they do not tangle with necklaces, bracelets or anklets.
What to know when buying Jewellery Boxes
Where to buy Jewellery Boxes ?



---
Latest Jewellery Boxes Reviews
Check out our reviews of the latest Jewellery Boxes hand picked by our expert editorial team.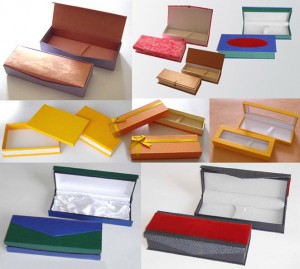 In most cases, jewellery boxes are purchased for someone who is close to you, as a gift item. Before you decide to purchase a jewellery gift box it can be useful to find out the perfect choice from your spouse, mother, sister or friend. A jewellery gift box can come …
[Continue reading: Where can I buy jewellery gift boxes?]
Astley Clarke Black leather jewellery box with black lining
This jewellery box is sleek and simple yet it has plenty of room to store all your favourite pieces of jewellery. The designer, Astley Clarke, designed the box out black Italian leather that's soft to the touch and durable enough to …
[Continue reading: Astley Clarke Black leather jewellery box with black lining]
Top Jewellery Boxes Necklaces
Top Jewellery Boxes Bracelets
---