Agrigento
Agrigento jewellery is a beautiful, modern line of handcrafted jewellery which was born from the vision of gifted designed Alissa Frazer.
Agrigento is a strikingly beautiful line of jewellery which draws a great deal of inspiration from nature.

What to know when buying Agrigento
All the best beauty of nature is reflected in this jewellery: if indeed nature can be improved upon, this jewellery has done so. The Agrigento jewellery line is entirely handcrafted, handcarved, and polished by hand. Each piece in the Agrigento line is crafted from sterling silver and is then dipped in either eighteen karat gold or a stunning pure platinum finish. Thanks to the use of reasonably priced materials such as these, you can own these pieces, which rival the highest dollar jewellery out there, for a mere fraction of what you might expect. Since the jewellery is made from excellent quality materials, you can expect it to last and will not experience tarnishing or any decline in it's appearance.
With necklaces, rings, and earrings which are whimsical, bold, and delicate all at once, this is one of the more unique jewellery lines today. Each beautiful piece of jewellery has a different distinct style all it's own: from the baby octopus necklace, which is stunning in it's delicate beauty, to the koi fish earrings which dangle enticingly from the ears, you will always find something new to exclaim over in the Agrigento jewellery line. Both those women who are close to nature and those who have never set foot upon the beach will find Agrigento irresistible. To wear jewellery pieces such as these is to wear captured living art.
Where to buy Agrigento ?



---
Latest Agrigento Reviews
Check out our reviews of the latest Agrigento hand picked by our expert editorial team.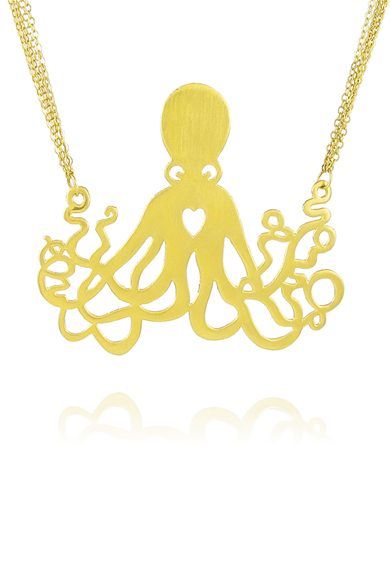 Agrigento, One of the Best Jewellery Designers
Alissa Frazer is the one who created Agrigento jewellery designs. Every pieces of jewellery that Alissa is creating are truly genuine and are considered a must have stuff for women.
Agrigento is truly well-liked by most women not just in Europe but almost …
[Continue reading: Hottest Agrigento Jewellery Designs]


Agrigento Liberty 18ct gold vermeil butterfly wing earrings
The intricate detail of these large butterfly earrings mean that they'll sit lightly in your ears even though they measure an impressive 75mm by 54mm. They feature a fabulous high shine finish on one side and a brushed satin finish on the …
[Continue reading: Agrigento Liberty 18ct gold vermeil butterfly wing earrings]


Agrigento Nest ring in 18ct gold vermeil with fresh water pearls
This fabulous nest ring by the Agrigento team of designer jewellers in New York is a fascinating piece that's so unusual that it's sure to get noticed and complimented. This cocktail ring is artfully made out of intricate18ct yellow …
[Continue reading: Agrigento Nest ring in 18ct gold vermeil with fresh water pearls]


Agrigento Small koi fish necklace in platinum vermeil
Are you tired of jewellery that all looks pretty much the same? Then you'll love the look of this small Koi fish necklace in platinum vermeil made by the Agrigento team of jewellery designers in New York. Not only is this necklace …
[Continue reading: Agrigento Small koi fish necklace in platinum vermeil]