Claudia Bradby
Claudia Bradby jewellery is hand made, with gemstones taken from around the world, and freshwater pearls from Asia. All the silver jewellery uses 925 sterling, and many of the silver beads are handmade in Bali and Thailand. Claudia Bradby's design ideology is to create exquisite pieces of jewellery which can be worn for any occasion. The Claudia Bradby designer jewellery range from designer 'wow' styles to supremely useful and plain pearl necklaces and earrings. Each piece in the Claudia Bradby collection is beautifully finished, whether by a pearl on the end of an adjustable chain, or a small silver bead making a full stop under a bead or pearl.
What to know when buying Claudia Bradby
Where to buy Claudia Bradby ?



---
Latest Claudia Bradby Reviews
Check out our reviews of the latest Claudia Bradby hand picked by our expert editorial team.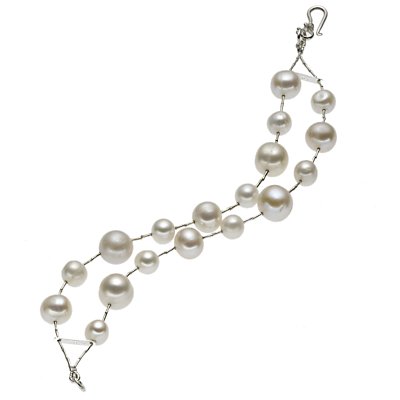 Just saw this beautiful Claudia Bradby Double Strand Pearl Bracelet at Peter Jones, and couldn't resist. This really is the bracelet for that little black number for the 'wow-factor'. This stunning pearl bracelet from Claudia Bradby is made from 2 strands of white freshwater pearls of varying size.…
[Continue reading: Claudia Bradby Double Strand Pearl Bracelet]
Top Claudia Bradby Necklaces
Top Claudia Bradby Bracelets
---