DAY Jewels
Since 1997, Day Jewels has been creating lovely jewellery with a classic style that won't change as clothing fashions do. When Keld Mikkelsen established his company, DAY Birger et Mikkelsen, he had a wish to create beautifully designed jewellery and clothing. While his clothing styles change from season to season, his jewellery designs are timeless.
Day Jewels use a sleek minimal aesthetics combined with a twist of exotic elegance to craft its pieces. The result is pieces that are unique and modern, traits often associated with Danish design. Inspiration for Day Jewels comes from vintage flea markets in New York, the colonial period in India and periods in history like the roaring twenties and the not-so roaring thirties.
What to know when buying DAY Jewels
All pieces of Day Jewels have their own story, which adds to their uniqueness. Pieces are all handcrafted from gold plated silver, so no two are exactly alike. No need to worry about getting cookie-cutter, manufactured pieces of jewellery when you select any piece crafted by Day Jewels. Keld Mikkelsen likes to add smokey quartz to his earrings and bracelets. Bracelets tend to be layers. Bangle sets, for example, can be worn independently or combined to create completely different looks.
Where to buy DAY Jewels ?



---
Latest DAY Jewels Reviews
Check out our reviews of the latest DAY Jewels hand picked by our expert editorial team.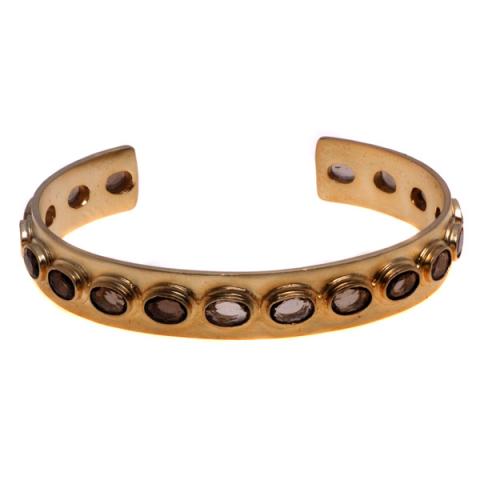 DAY Jewels Stone bracelet
This stone bracelet by Day Jewels is a great piece if you happen to have slightly larger than average wrists. It has an open back, slips on, and is adjustable. This Day Jewels stone bracelet is made out of stunning gold plated silver studded with smoky …
[Continue reading: DAY Jewels Stone bracelet]


DAY Jewels Long chain necklace
The lovely little cascading gold discs on this long chain necklace from Day Jewels look classy and elegant. Perfect for the contemporary woman who's looking for something discreet and sophisticated to accent her daytime and nighttime wardrobe! You can create a few looks with this …
[Continue reading: DAY Jewels Long chain necklace]
DAY Jewels Cotton chain necklace
Who would have thought cotton could look so sharp? This necklace from DAY Jewels is probably the best looking piece of cotton in Britain, if not the entire world!
And if you haven't figured out why yet from the picture, then let's enlighten you. This …
[Continue reading: DAY Jewels Cotton chain necklace]