Erika Pena
Born to brilliance, designer Erika Pena, at the tender age of eighteen knew exactly where her life was going. On her eighteenth birthday she left her native Puerto Rico to live in New York and study clothing fashion at the Parsons School of Design. During her stay she was inspired by such high-fashion icons as Donna Karan and Josie Natori. Before long she had launched her own Erika Pena clothing line titled, epe. Designing talent was a family signature and in 2006 she became a colleague of her sister, Bielka pena-bevillard, and together they expanded the Erika Pena dynasty. During the course of their association they collaborated with various designers which eventually inspired Erika to add the Erika Pena jewellery line. Upon return to her native land, Puerto Rico, Erika concentrated on designing jewellery. She wanted to bring to her line the rowdy glitz of New York and combine it with the sweet, light freedom of the Caribbean. She is now very successful in her venture, and we love her designs at my designer jewellery.
What to know when buying Erika Pena
Where to buy Erika Pena ?



---
Latest Erika Pena Reviews
Check out our reviews of the latest Erika Pena hand picked by our expert editorial team.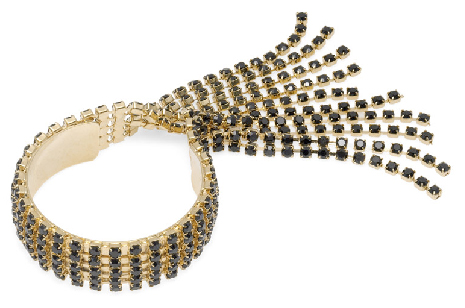 Native to Puerto Rico Erika Pena studied fashion design at the Parsons School of Design in New York. Her style combines the rowdy glitz of Manhattan with sweet, light freedom of the Caribbean.
The Gabriela Cuff is a stunning bracelet encircling your wrist with black mini swarovski crystal rhinestones. A …
[Continue reading: Erika Pena Bracelets]