John Apel
John Apel formerly known as DiLaro Jewellery, Inc. is created by John Apelian.
John Apelian chose to change the name of his company in 2006 because he is so proud of what he does and wanted his name to be behind his merchandise.

What to know when buying John Apel
His vision when creating jewellery is to show the art and nature coming together as one. He is inspired by sunsets, sunrises, gardens and more. The pieces in his collection are handcrafted and totally inspired by nature.
Apelian has said that when creating a new piece of jewellery he thinks about the woman that will be wearing it and how it can enhance her beauty. His signature pieces include a white gold bangle with diamond and rose accents, rose cut diamond earrings, platinum and rose cut diamond ring, platinum and rose cut diamond flower necklace and a rose cut diamond flower bracelet.
His bridal collection is called Serendipity and is designed to enhance the woman's beauty that is wearing it. The pieces in this collection include; a handmade diamond drop necklace, white gold and diamond bracelet, rose cut and diamond platinum drip earrings, platinum and diamond hand engraved engagement ring and diamond and rose gold necklace. Apel also offers a colour stone line which includes; necklace with various beryl colour stones, diamond earrings with various beryl colour stones and sapphire, morganite and diamond ring and morganite and diamonds set in 18kt rose gold.
John Apel takes great pride in his jewellery hence using his own name as his brand – Which makes John Apel jewellery really bring out the beauty in the women that wear it.
Where to buy John Apel ?



---
Latest John Apel Reviews
Check out our reviews of the latest John Apel hand picked by our expert editorial team.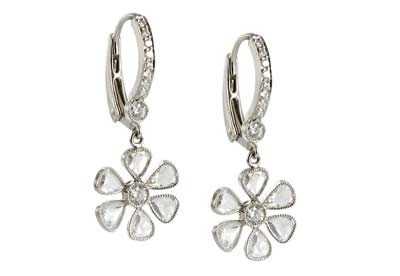 John Apel Single drop diamond daisy earrings in platinum
Create the freshness of spring every time you wear these single drop diamond earrings in platinum, regardless of what season you choose to wear them in. The earrings are plain pretty with their delicate flowers artfully crafted by John Apelian, the …
[Continue reading: John Apel Single drop diamond daisy earrings in platinum]


John Apel Single diamond daisy necklace in platinum
Located right in the middle of this lovely 16 inch platinum chain is a lovely single diamond daisy. This stunning diamond flower pendant by John Apelian is meant to be noticed and the diamond daisy design is securely suspended from the chain …
[Continue reading: John Apel Single diamond daisy necklace in platinum]


John Apel Sapphire and diamond daisy ring in platinum
The blue of the sapphires really stand out in the lovely platinum setting of the stunning sapphire and diamond daisy ring by the master craftsman behind John Apel designer jewellery in New York, John Apelian. Not only do you get a …
[Continue reading: John Apel Sapphire and diamond daisy ring in platinum]