Les Nereides
Les Nereides has been making jewellery since 1980. It was during this time that its founders, Pascal and Enzo Amaddeo chose to create a company that was dynamic and creative and showed off their passion for jewellery.
The collections by this company are inspired by a touch of the abstract in the form of far-off dreams. This dreamlike quality of the creation of the designs carries through to their actual crafting. There's a lightness of the settings that's very appealing and due exclusively to sophisticated craftsmanship of a special style of metalwork. Skilled artisans do all this metalwork, along with the inlay of stones, pearls, and the painting and embroidery by hand.
What to know when buying Les Nereides
Pascal and Enzo Amaddeo's love for detail is one of the first things that's very noticeable about Les Nereides jewellery. The lines are pure. The colours are always perfectly in harmony. And the choice of materials that's put into each piece of jewellery is perfectly selected. Even the packaging of Les Nereides takes into account the designer's overall attention to detail.
A few Les Nereides collections, like the Princess Feuilage and Joile Mois De Mai collections, are very romantic with their flower-themed designs. The Ballade en Reve is another romantic collection.
Where to buy Les Nereides ?



---
Latest Les Nereides Reviews
Check out our reviews of the latest Les Nereides hand picked by our expert editorial team.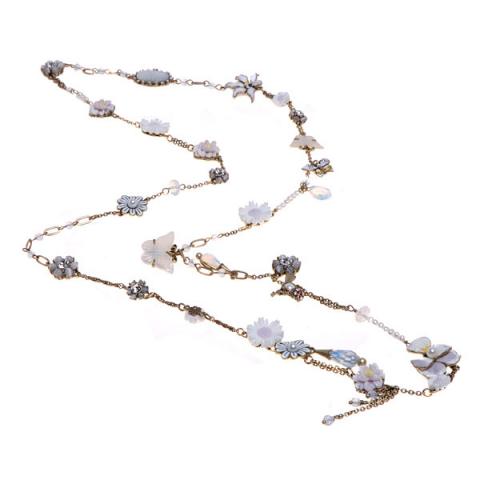 Les Nereides Lovebird necklace
The Lovebird necklace from Les Nereides is part of the French jewellery company's Ballade en Reve collection. It's a very feminine summery necklace decorated with intricately detailed small bird and butterfly charms and flowers. Many of the charms are accented with tiny stones. The chain of …
[Continue reading: Les Nereides Lovebird necklace]


Les Nereides Three strand crystal necklace
From the La Diamantine collection of Les Nereides, this three-strand crystal necklace is a real stunner. It features various shaped blue coloured crystals mounted on a nickel-free brass coated chain. While this necklace will look great on its own, you can build on the …
[Continue reading: Les Nereides Three strand crystal necklace]


Les Nereides Large crystal necklace
This Les Nereides necklace from the company's La Diamantine collection is made out of numerous large dark blue crystals all carefully secured in place with several handcrafted claws on each stone. All of Les Nereides collections strive for sophisticated craftsmanship that's inspired by travels and …
[Continue reading: Les Nereides Large crystal necklace]
Top Les Nereides Necklaces
Top Les Nereides Bracelets
---