Nazanine Tassoudji
If you are daring and like to make a statement with bright and vivid colours, along with uncommon but elegant designs, check out the jewellery collection designed and handmade by Nazanine Tassoudji.
Many of her pieces are one of a kind and her inspiration comes from ancient jewellery of West Asia. Mainly working in primarily 18ct and 24ct yellow gold, Nazanine uses a variety of materials to adorn her bold and elaborate works of art.
What to know when buying Nazanine Tassoudji
Nazanine Tassoudji is Geneva based and her jewellery is designed and styled around ancient civilization using rich gold embedded with jewels, such as; tourmaline, lapis, turquoise, diamond, onyx, peridot, topaz and opal gemstones, plus other items including wood, bronzes, enamel, Persian and Hellenic artefacts, and antique coins. The results are intriguing, offering an array of various distinct pieces to choose from, for both men and women. Unlike a lot of other jewellery, Nazanine's collection is of an ancient contemporary form, using modern form in the making of it, giving it that noticeable suggestion of the past.
The meticulous handcrafted work that goes into this designer jewellery comes from the heart, and this "eccentric" artist will make an announcement of your uniqueness for you. Nazanine's collection is simply fascinating and shines with rare striking beauty. Her individual choices of jewellery pieces are never ending when it comes to finding that unusual piece you are looking for. You certainly won't go unnoticed if you add a Nazanine Tassoudji to your personal collection of jewellery.
Where to buy Nazanine Tassoudji ?



---
Latest Nazanine Tassoudji Reviews
Check out our reviews of the latest Nazanine Tassoudji hand picked by our expert editorial team.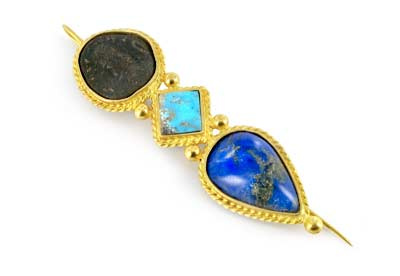 Nazanine Tassoudji Parthian coin 18ct gold brooch with lapis and turquoise
This fabulous brooch will add just the right splash of colour to any outfit. It's not the type of jewellery to blend into whatever you're wearing and is sure to get noticed. A great piece for the woman who …
[Continue reading: Nazanine Tassoudji Parthian coin 18ct gold brooch with lapis and turquoise]


Nazanine Tassoudji 18ct gold pendant with antique bronze bird with turquoise, tourmaline and pearl
Nazanine Tassoudji, a Geneva based jewellery designer, has created a fabulous piece of jewellery with this lovely 18ct gold pendant with antique bronze bird with turquoise, tourmaline and pearl. The pendant has an assortment of colours …
[Continue reading: Nazanine Tassoudji 18ct gold pendant with antique bronze bird with turquoise, tourmaline and pearl]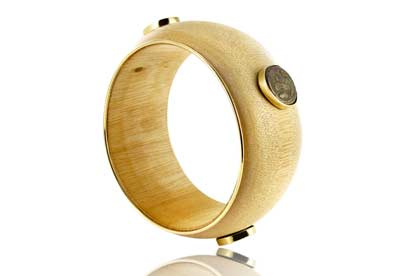 Nazanine Tassoudji Light wooden bangle with 18ct gold and antique coins
If you're a woman who sometimes develops a skin irritation to metals, especially once the temperatures rise, then you'll like this light wooden bangle with 18ct gold and antique coins. It's made out of varnished wood and measures 35 …
[Continue reading: Nazanine Tassoudji Light wooden bangle with 18ct gold and antique coins]


Nazanine Tassoudji Tourmaline cluster earrings in 18ct gold
Imagine how great these Tourmaline cluster earrings in 18ct gold would look with a little black dress. They'd add just the right amount of colour and glitter without overwhelming you or your dress. But these earrings are also versatile so they'll look …
[Continue reading: Nazanine Tassoudji Tourmaline cluster earrings in 18ct gold]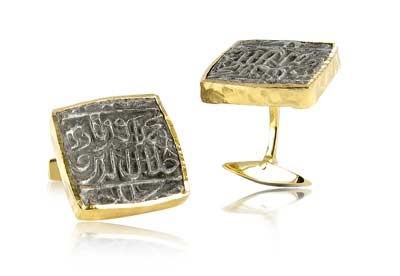 Nazanine Tassoudji 18ct white gold cufflinks with square Urdo coins
Any well-groomed man is sure to look great with a pair of carefully selected cufflinks. And these stylish designer cufflinks by Geneva based jewellery designer, Nazanine Tassoudji will serve that purpose very nicely. They're quality made out of 18 ct …
[Continue reading: Nazanine Tassoudji 18ct white gold cufflinks with square Urdo coins]
Top Nazanine Tassoudji Necklaces
Top Nazanine Tassoudji Bracelets
---