Philippa Holland
For the people who enjoy making both a bold or soft statement with their jewellery, but still want that organic use of nature in each piece they wear, Philippa Holland is the designer for them.
Philippa is an awesome artist who has studied "The History of Jewellery" at Southerby's Institute and "Gemology" at the Institute of London, plus has studied the Art Nouveau movement in depth.
What to know when buying Philippa Holland
The inspiration for the designs of her jewellery is brought on by her connection with the natural world around her, along with her on-going interest in Eastern Philosophies.
Philippa is based in Notting Hill London and started designing jewellery in 2003. Her jewellery is both fascinating and remarkable, as her love and understanding of the natural cycle of life is reflected in her work. Seedpods, leaves and insects (many collected from the Savernake Forest and during her worldwide travels) are just a few of the organic items that you will find in Philippa's delicate jewellery. All of her jewellery is produced in England and she uses many different techniques in working with gold, silver, and precious and semi-precious stones.
Philippa Holland is an artist that can play a role in the life of someone who truly enjoys making a statement by expressing their self with realistic pieces of jewellery. Her designs vary from the most dainty intricate detailed butterfly rings, necklaces and pins, to some that are not for the squeamish- such as a spider catching a fly in it's web, beetles hanging from earrings or scorpions with black diamond eyes.
Where to buy Philippa Holland ?



---
Latest Philippa Holland Reviews
Check out our reviews of the latest Philippa Holland hand picked by our expert editorial team.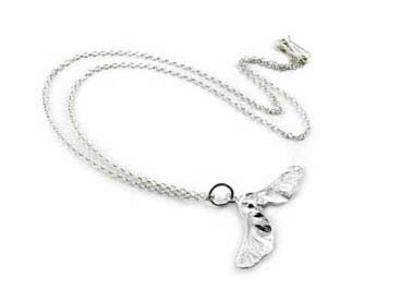 Philippa Holland Silver sycamore necklace
The sycamore pendant of this lovely silver necklace by London jewellery designer Philippa Holland makes a simple silver chain into a spectacular piece of jewellery. This necklace has an 18-inch silver chain that's accented with a pretty fancy hook clasp meant to stay closed once …
[Continue reading: Philippa Holland Silver sycamore necklace]


Philippa Holland Twiggy silver hoops with tourmalines
These beautiful silver hoops are part of Philippa Holland's Twiggy collection that brings the beauty of nature to you. All jewellery in the Twiggy line, like these beautiful hoops, have the organic look and feel of tree twigs. The simulated tree twigs are …
[Continue reading: Philippa Holland Twiggy silver hoops with tourmalines]


Philippa Holland Twiggy silver ring with tourmalines
Nature lovers will love the organic style of this Twiggy ring made by London jewellery designer Philippa Holland. It's made to look and feel like tree twigs artfully entwined with numerous beautifully coloured tourmalines in pinks, greens and cognac. The simulated tree twigs …
[Continue reading: Philippa Holland Twiggy silver ring with tourmalines]


Philippa Holland Twiggy silver bangle with tourmaline
The beautiful shiny silver of this Philippa Holland bangle is accented with lovely coloured stones that shimmer beautifully against the colour of the sterling silver. This piece has an organic look and feel since it's uniquely made with a interesting twist pattern that …
[Continue reading: Philippa Holland Twiggy silver bangle with tourmaline]
Top Philippa Holland Necklaces
Top Philippa Holland Bracelets
---