Sara Hartley
If you are the person that loves jewellery and nature, Sara Hartley is the designer for you.
Sara's jewellery is designed around the cycle of life, each piece studied and thought out thoroughly before it is actually created in the jewellery form. Sara's jewellery is beautiful, yet unique and comforting with the influence of the natural world around us. What subject of design could be more beautiful than that of mother nature?
What to know when buying Sara Hartley
Sara Hartley graduated from Sir John Cass University in 1996, with a B.A Honours degree. She immediately started designing and selling her work through shops, galleries, exhibitions and shows. In 1998 she moved to her central London studio continuing on with producing some of the most noticeably attention attracting jewellery on the market. Each piece of jewellery Sara designs comes from the inspiration from the world around us, such as buds blossoming into flowers to the seed pod it's self. The "nature" of her jewellery is endless, as each piece is designed around it. All pieces of Sara Hartley's collection are hand crafted from the highest quality metals and stones, including diamonds.
Each piece has a story behind it that comes from the natural world around us, along with that striking appeal that many seek out in a piece of jewellery. Sara's jewellery pieces are spectacular when it comes to design, sparkle and beauty, all while keeping you close to mother nature. If you love both nature and beautiful jewellery, check out the designs by Sara Hartley, you won't be disappointed!
Where to buy Sara Hartley ?



---
Latest Sara Hartley Reviews
Check out our reviews of the latest Sara Hartley hand picked by our expert editorial team.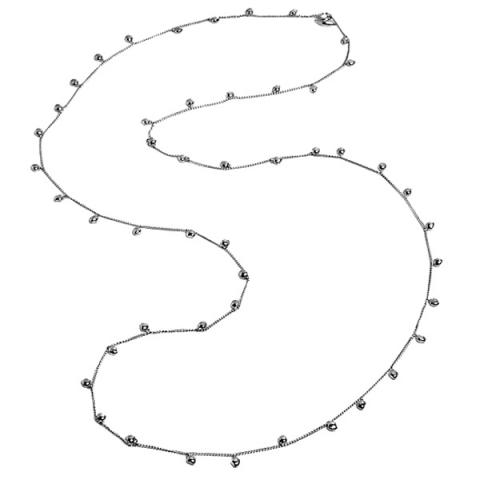 Sara Hartley Silver hearts long chain
This dainty Sara Hartley necklace is a very feminine piece of jewellery. It has a 60 cm fine silver chain accented with gorgeous small heart-shaped petals. Both the chain and the petals are made out of polished sterling silver. This silver hearts long chain …
[Continue reading: Sara Hartley Silver hearts long chain]


Sara Hartley Five strand bud drop necklace
A stunning necklace in its simplicity, this Sara Hartley original five strand bud drop necklace is the perfect accent to any woman's wardrobe. It features a beautiful intertwined five-strand snake chain that finishes off into seven strands. Each of these strands ends with …
[Continue reading: Sara Hartley Five strand bud drop necklace]


Sara Hartley Silver hearts short chain
Accent the nice form of your collarbone with this 21 cm silver hearts short chain from Sara Hartley. Sara Hartley is the company's founder and has been designing and selling jewellery since she graduated with a B.A. Honours Degree from Sir John Cass University …
[Continue reading: Sara Hartley Silver hearts short chain]


Sara Hartley Three strand bud drop necklace
This Sara Hartley necklace is very streamlined and modern, yet still manages to give off a very elegant feel. The chain part of the three strand bud drop necklace is about 20 cm long. It's another eight cm longer if you include the …
[Continue reading: Sara Hartley Three strand bud drop necklace]
Top Sara Hartley Necklaces
Top Sara Hartley Bracelets
---