Scott Wilson
Scott Wilson is a jewellery designer who studied at the millinery at the Royal College of Art and at Middlesex Polytechnic Institute.
While still in college he won a work placement with Karl Largefield in Paris whom he was commissioned by to make "mystical" wire head and body pieces for a fashion show. After a few seasons of making these pieces his work became very recognizable in the fashion industry. He has also had a working collaboration with Hussein Chalayn.
What to know when buying Scott Wilson
He has recently turned his attention to his own business of designing ready to wear jewellery. He designs for women and men mostly in silver, 18K gold and leather. He makes very unique pieces such as cuffs woven of cashmere and leather, and layered modernist silver chains. All of his designs are sculptural and bold looking.
His work has become so popular that it is worn by many famous actors and artists such as Tori Amos, Bjork, Cameron Diaz, and The Sugababes. Designers also continue his demand his work. These designers include Hugo Boss, Burberry, Ghost, Frost French, Antonio Berardi and Karl Lagerfield.
All of his pieces are sophisticated and different. Most are made from silver and necklaces almost always have unusual pendants attached, sometimes with T-bar fastening. Scott has also been called the Lord of the Rings, as many of his bold sculptural designs are rings, usually worked in 18K gold and leather.
His jewellery designs are available on the web and can be seen in many fashion designers shows. They truly are bold, different and gorgeous.
Where to buy Scott Wilson ?



---
Latest Scott Wilson Reviews
Check out our reviews of the latest Scott Wilson hand picked by our expert editorial team.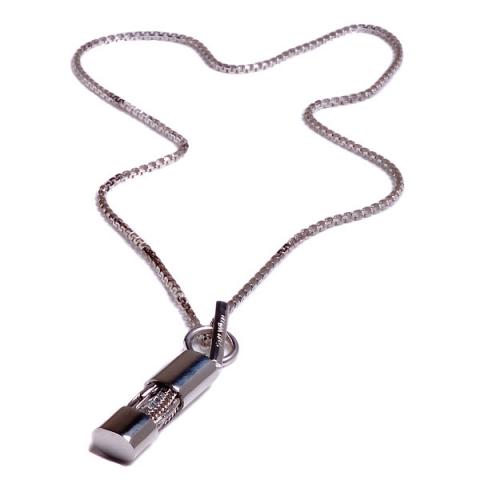 Scott Wilson Multi chain pendant necklace
This unique piece of Scott Wilson jewellery screams cool sophistication. It's a necklace made out of a silver mixed multi chain with an unusual pendant attractively attached to the chain with a T-bar fastening above the pendant. The pendant is so different that it's …
[Continue reading: Scott Wilson Multi chain pendant necklace]
Top Scott Wilson Necklaces
Top Scott Wilson Bracelets
---