Susan Hanover
Growing up in South Africa Susan Hanover was surrounded, in her formative years, with earthy beauty and grew to love the colors and textures of her native landscape. Her chosen profession was law but fashion and design had been lifelong passions. She gave up her legal career and in the summer of 2005, launched her first collection of designer jewellery.This mother of three has always been drawn to faceted semi-precious stones like citrine, smoky quartz and topaz. Her stone wired bracelets, with these faceted stones, have become her signature pieces. Susan's designs are all handcrafted in the United States with either 14 karat gold-filled or gold plated materials and semi-precious stones. She has been featured in several magazines including, InStyle, InStyle Makeover, Vogue, and Accessories and More. Her line is sold in a number of museums and was featured in New York. Some of her more famous customers is Beyonce and Paula Abdul. Her bracelets have been worn by Kelly Ripa of the Regis and Kelly Show. Her designs have been featured on the Today Show, Hollywood Heat and are scheduled to appear on future television programs.
What to know when buying Susan Hanover
Where to buy Susan Hanover ?



---
Latest Susan Hanover Reviews
Check out our reviews of the latest Susan Hanover hand picked by our expert editorial team.
South Africa was the playground of Susan Hanover and the earthy beauty, the colours, the texture of that landscape drew her to begin her career in the fashion world. Her stone wired bracelets with faceted stones of citrine, smoky quartz and topaz has become her signature pieces.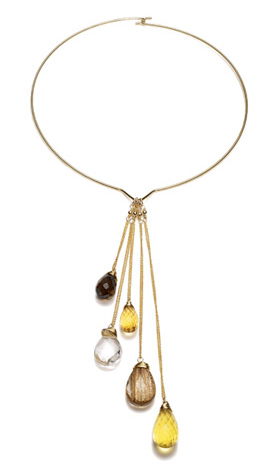 The Necklace with …
[Continue reading: Susan Hanover Necklaces and Earrings]
Top Susan Hanover Necklaces
Top Susan Hanover Bracelets
---