Swarovski
Swarovski jewellery with its lovely use of crystal has become a popular jewellery line worn by A-list celebrities. They love it because it's quality made and brings to them a sparkling universe wrapped up in eye-catching and contemporary styles. Swarovski is known for creating innovative jewellery that uses crystal in a way that few other jewellery designers do. Crystal is a great item in which to make jewellery because it interprets light in such an interesting way that sometimes the jewellery looks completely different in various types of light. The designer jewellery created by Swarovski includes a variety of styles such as chokers and necklaces, earring, bracelets and even hair jewellery. Many of the pieces can be worn for everyday use. Other pieces work well with every day wear. Some Swarovski jewellery pieces are simply so stunning that they're only appropriate for evening wear. And yet other pieces work great for evening wear but can just as easily be used as a bridal gown accessory. Swarovski jewellery brings glamour to everything you wear it with. The ageless crystal that's used in this company's jewellery will never look dated and will keep you looking fashionable and elegant for many years. The company was founded in the 19th century by Daniel Swarovski.
What to know when buying Swarovski
Where to buy Swarovski ?



---
Latest Swarovski Reviews
Check out our reviews of the latest Swarovski hand picked by our expert editorial team.
Swarovski Impression Set
The Impression Set from Swarovski is a great way to add more than a touch of glamour to any outfit. This unique set is rhodium plated so you can be assured that it will go with anything you choose to wear it with. The earrings are for …
[Continue reading: Swarovski Impression Set]
Swarovski Embrace Clip Earrings
Just because you don't have pierced ears, doesn't mean you need to settle for poor quality or ugly earrings. The Embrace Clip Earrings by Swarovski certainly proves the point that you don't. These sparkling earrings hang 1.9 cm are absolutely ooze style. Like most Swarovski jewellery, …
[Continue reading: Swarovski Embrace Clip Earrings]
Swarovski Date Rose Water Opal Charm
The soft pink colour in the Swarovski Date Rose Water Opal Charm is sure to compliment any skin tone and look great with any outfit you wear. It may be pink, but it's such a light pink that you don't need to worry about …
[Continue reading: Swarovski Date Rose Water Opal Charm]
Swarovski Be Bop Jet Metallic Silver Bracelet
It's impossible not to marvel at the ingenious design of the Swarovski Be Bop Jet Metallic Silver Bracelet. It looks like two tiny belts artistically attached together with a jet metallic silver crystal mesh, and you'll be hard pressed to find anything similar …
[Continue reading: Swarovski Be Bop Jet Metallic Silver Bracelet]


Swarovski Brilliance Set
Now you don't have to worry about matching your earrings to your necklace. The Swarovski Brilliance Set does the work for you and comes with both a lovely rhodium plated pendant and pierced earrings that perfectly compliment the necklace. Both the earrings and the necklace have gleaming …
[Continue reading: Swarovski Brilliance Set]


Swarovski Aline Pierced Earrings
Elegant. Simple. And absolutely perfect. This is the best way to describe these incredible earrings designed and manufactured by Swarovski. These Swarovski Aline Pierced Earrings manage to be timeless and classic while still remaining highly fashionable. It's a balance that not all jewellery designers are able …
[Continue reading: Swarovski Aline Pierced Earrings]


Swarovski Blink Heart Pendant
Pendant lovers might start to drool when they see this lovely heart pendant from Swarovski. It features a rhodium-plated pendant with hear in clear crystal pav. The end result is a wonderfully designed piece of jewellery that gives off that Haute Couture feel. Plus it comes …
[Continue reading: Swarovski Blink Heart Pendant]


Swarovski Cube Comet Argent Light Necklace
The tasteful Swarovski Cube Comet Argent Light Necklace ends with a point that draws the eye towards your cleavage. This is the perfect necklace to wear if you want to accent a classy and not overly excessive display of cleavage. A wonderful choice if …
[Continue reading: Swarovski Cube Comet Argent Light Necklace]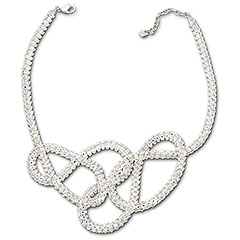 Swarovski Champagne Necklace
This 40 cm necklace by Swarovski will sit so perfectly on your collarbone that it will lengthen your neck and make it look long and slender. This Swarovski Champagne Necklace is a great accessory to wear for an evening out. It even works exceptionally well with an …
[Continue reading: Swarovski Champagne Necklace]


Swarovski Branch Hair Clip
Add a little crystal sparkle to your hair to dress up any outfit. That's what you can do with the Swarovski Branch Hair Clip. It's s superb rhodium-plated hair clip that features elements in clear crystal pav in various cuts and sizes. Besides that, you also …
[Continue reading: Swarovski Branch Hair Clip]