Yummi Glass
Yummi Glass is a class of hand crafted Murano glass jewellery from Alison Overbeke.
Every pendant has been designed in New York and crafted in Murano in Venice. These glass pendants combine the skill and creativity of Italian glass blowers with the high fashion style of New York.
What to know when buying Yummi Glass
Leather cords and silver toggle clasps give a cool and contemporary look to heart shaped jewellery. The trademark of Yummi Glass is designer pendants. They add life to any outfit. The pendant collection is made up of precious and semi-precious stones set in sterling silver and gold. If you need large show stoppers or something classic and refined, you must go for this collection from Murano.
The entire line of Yummi Glass rings, earrings, bracelets, necklaces, and cuff links are individually hand crafted by the most skilled designers in the world. These artisans of Italy are gifted in their skills and creative approach. Ms.Overbeke combines the craftsmanship of these gifted technicians with the real high fashion world's demand for exquisite jewellery wear in New York.
Ms.Overbeke began working for Yummi Glass in 1999. Her intention was to create a line of jewellery that was elegant and world class. She started with a classic collection of toned jewel pendants on organza ribbon. Soon she diversified into various different collections including the Heart collection, the Safari collection, the Klimt collection, the Sea Life collection, the Butterfly collection, the Gold Collection, the Classic collection, the Ribbon collection and her own exclusive Faceted collection.
Yummi Glass' collection wear provides a clean and classy look for anyone looking for a great image makeover.
Where to buy Yummi Glass ?



---
Latest Yummi Glass Reviews
Check out our reviews of the latest Yummi Glass hand picked by our expert editorial team.


Yummi Glass Heart pendant with 24ct gold
If you're looking for a pretty and very romantic gift, you need look no further. This hand painted, hand crafted heart pendant oozes romance and is effortlessly pretty because of its quality and style. It's made using the traditional glass-cutting techniques in Murano, …
[Continue reading: Yummi Glass Heart pendant with 24ct gold]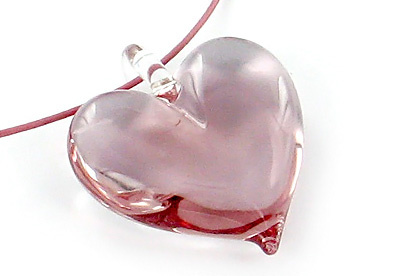 Yummi Glass Happy heart pendant in raspberry pink glass
The happy heart pendant in raspberry pink glass by Yummi Glass is a beautiful piece of jewellery that is highly affordable. It features a lovely pink heart pendant in Venetian glass carefully attached to a matching pink leather cord. The cord …
[Continue reading: Yummi Glass Happy heart pendant in raspberry pink glass]
Top Yummi Glass Necklaces
Top Yummi Glass Bracelets
---