Silver Jewellery
Gold jewellery has an equal and opposite sister metal and her name is silver. Look out gold, here comes silver and it looks like she is hear to stay.
Silver jewellery is the accessory that catches the light and never lets go. The sparkle is truly amazing.

What to know when buying Silver Jewellery
Turquoise looks great with silver. It gives a Native American feel and shows pride for those who hand make that type of jewellery. The accent of turquoise cannot be beat and pretty much any precious metal can be added to silver jewellery. It all depends on what you like and what looks best on you. With this type of jewellery you must be careful to get that piece of jewellery that is not a fake. It may cost more, but in the end if it is between extra cash or a green finger, I am going to pay a little more for something that is real. Silver jewellery is exquisite when worn on special occasions or it can be toned down to go with everyday looks. It is all in how you wear it. You cannot go wrong with jewellery, especially that which is silver.
Silver jewellery is a great alternative to those who want jewellery with a nice look, but are allergic to gold or may just not like the way that gold looks on them.
Bracelets, rings and even watches can be made from sterling silver. Basically anything jewellery-esque can be made by using silver or sterling silver. It can even be fused with gold to create a two toned layered look. This makes it a bit more professional or dressy looking without looking too flashy. Plus those who do not like gold may just wear it because it has the silver in it too.
Where to buy Silver Jewellery ?



---
Latest Silver Jewellery Reviews
Check out our reviews of the latest Silver Jewellery hand picked by our expert editorial team.
Hot Diamonds Slice Silver Cufflinks
Oblong slabs of quality sterling silver engraved with bold rectangular designs create sharp lines in the Slice Silver Cufflinks from Hot Diamonds. The silver is polished to a high shine, in contrast to the unfinished engraving, which creates brilliant visual interest at the cuff of …
[Continue reading: Hot Diamonds Slice Silver Cufflinks]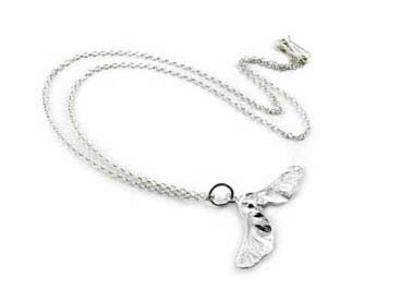 Philippa Holland Silver sycamore necklace
The sycamore pendant of this lovely silver necklace by London jewellery designer Philippa Holland makes a simple silver chain into a spectacular piece of jewellery. This necklace has an 18-inch silver chain that's accented with a pretty fancy hook clasp meant to stay closed once …
[Continue reading: Philippa Holland Silver sycamore necklace]
Top Ladies Silver Jewellery
Top Mens Silver Jewellery
---