Stainless Steel Jewellery
The biggest advantage of stainless steel jewellery is that it is not anywhere near as expensive as other precious metals used in jewellery making.
Stainless steel is a very versatile metal so it can be made into jewellery that does different things. It is useful under all conditions and does not tarnish or change colour. It is a very hard and well wearing silver colour. It holds up excellently being worn everyday and does not show any wear and tear for years and years, something unlike a material like platinum.
What to know when buying Stainless Steel Jewellery
One of the best features of stainless steel jewellery is that it is very affordable. It costs nowhere near as much as gold or silver. You can wear it any time and all the time without worrying about anything happening to it. It is virtually indestructible, and does not tarnish. Wedding rings made out of stainless steel are great for everyday wear and a good quality one will appear just as lovely as many white gold pieces and you won't have to worry if something happens to it as replacing it would cost a fraction of replacing a white gold or platinum one.
Stainless steel is made of nickel, carbon, chromium, iron and molybdenum with small qualities of other metals mixed in sometimes. Iron is always the main "ingredient" and the rest of the chemical substances vary in amounts depending on the manufacturer and what the piece will be used for. The chromium content should not go below 11 percent though. The chromium content in the stainless steel is what will make your jewellery piece tarnish proof.
Where to buy Stainless Steel Jewellery ?



---
Latest Stainless Steel Jewellery Reviews
Check out our reviews of the latest Stainless Steel Jewellery hand picked by our expert editorial team.
This summer its all about disposable, stainless steel jewellery, especially if you're travelling and don't want to worry about your precious jewellery being damaged or stolen at the beach. Check out our top pics below:
ck Wish stainless steel necklace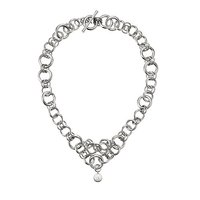 Expect nothing but creativity, class and style from the Calvin …
[Continue reading: Stainless Steel Jewellery Spotlight]
Top Ladies Stainless Steel Jewellery
Top Mens Stainless Steel Jewellery
---