White Gold Jewellery
White gold is used in many different types of jewellery.
White gold, which when looking at it is actually silver in colour, is an alloy of gold and one or more white metals. These metals are usually palladium or nickel.

What to know when buying White Gold Jewellery
The purity of white gold is measured in carats. White gold is available in a variety of carats, 18ct, 14ct and 9ct. Eighteen-carat white gold is 75% gold and 25% white metals. The white metal in 18ct white gold is usually palladium. Nine-carat white gold is three parts gold to five parts silver. Fourteen-carat gold falls somewhere in the middle. White gold was first seen regularly in the 1920's as a cheaper platinum substitute, especially for wedding and engagement rings. White gold is also used as a stronger alternative to silver.
When buying a piece of white gold jewellery ask if it is plated with rhodium. Rhodium is extremely hard and very tarnish proof. Sadly, this coating (plating) can and does wear off, especially on pieces of white gold worn frequently like wedding and engagement rings. This is easily and cheaply fixed by getting the piece re-plated. White gold is a better choice for earrings, necklaces and bracelets than it is for wedding rings for this reason. A white gold bracelet that is not worn everyday can be a very striking piece that will have little chance of tarnishing or changing colour from the rhodium wearing off.
The price of white gold, like all gold depends on demand and supply, inflation, interest rates and foreign exchange rates. Gold does maintain its value over time.
Things to look for when buying a white gold piece of jewellery include colour, price and quality. The colour of white gold should be "white". This colour will vary slightly with the carat count of the gold. The higher counts will appear whiter. White gold prices as we have stated do fluctuate with a number of factors. White gold should be plated with rhodium if possible, as it is the best coating available for white gold. This plating will keep the piece looking its best and if it were, a piece such as a necklace would last the lifetime of the piece. When used to plate pieces of jewellery worn everyday it may need to be recoated every few years to keep the piece looking its best.
Where to buy White Gold Jewellery ?



---
Latest White Gold Jewellery Reviews
Check out our reviews of the latest White Gold Jewellery hand picked by our expert editorial team.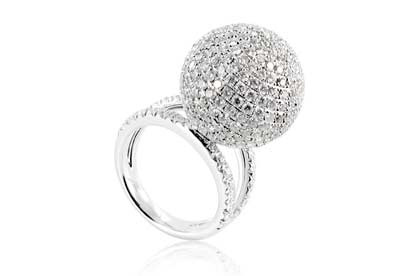 Takara Diamond Moon cocktail ring in 18ct white gold
Here's a highly fashionable ring that's sure to get noticed. This fantastic Diamond Moon cocktail ring in 18ct white gold is made to be eye-catching and is perfect for a glamorous evening where you're wearing you're finest and most seductive gown. …
[Continue reading: Takara Diamond Moon cocktail ring in 18ct white gold]
Top Ladies White Gold Jewellery
Top Mens White Gold Jewellery
---