Birthday Jewellery
A birthday is a special day in every person's life- a day to celebrate with his or her family and friends.
Birthdays were first celebrated in Europe. Birthday jewellery has been a conventional birthday gift as both men and women have always loved ornaments.
What to know when buying Birthday Jewellery
The most traditional birthday jewellery has been those embedded with birthstones or zodiac gem-stones that correspond to the birth month of the recipient. Such daily wear jewellery will bring good-luck to the wearer besides making them stand out in the crowd.
Sterling silver birthday jewellery pieces made of a mix of 92.5% silver and 7.5% of metals like copper are very durable and cheap and great for daily wear and office wear. Try to pick up such birthday jewellery containing more zinc than copper to reduce tarnishing possibilities.
Birthday jewellery is to be chosen based on the age of the celebrant. The fashion conscious girl celebrating her 18th birthday would love an exquisite Swarovski crystal-charm for party wear or chunky or sleek silver bracelets suitable for college wear. Milestone jewellery can be given on milestone birthdays. For instance peridot jewellery for a 16th birthday, pearl jewellery for 30th birthday, ruby jewellery for 40th birthday, gold and diamond jewellery for the 50th and 60th birthday respectively. This jewellery combines well with an evening gown.
You could also present unique hand made or vintage jewellery on birthdays that can be worn to social events. However examine the pieces carefully before buying to ensure they are not damaged or worn out.
Birthday jewellery is not just for women. Men's birthday jewellery include oblong, square and horse shoe rings made of metal, or leather choker-like necklaces with chunky diamond encrusted pendants. Leather/titanium bracelets and gem studs also make a stylish looking birthday jewellery gift for men.
You can now make unique birthday jewellery that is personalised with the help of custom jewellery designers, this can really make your present unique.
Where to buy Birthday Jewellery ?



---
Latest Birthday Jewellery Reviews
Check out our reviews of the latest Birthday Jewellery hand picked by our expert editorial team.
This summer its all about disposable, stainless steel jewellery, especially if you're travelling and don't want to worry about your precious jewellery being damaged or stolen at the beach. Check out our top pics below:
ck Wish stainless steel necklace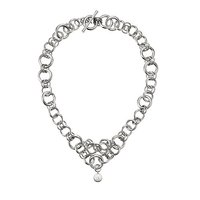 Expect nothing but creativity, class and style from the Calvin …
[Continue reading: Stainless Steel Jewellery Spotlight]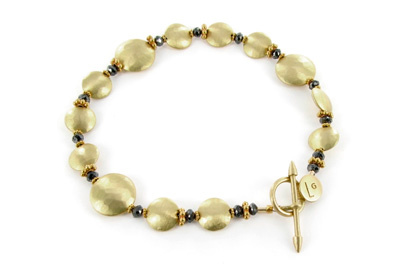 Laura Gibson 18ct gold disc and black diamond bracelet
Laura Gibson, one of America's most celebrated jewellery designers, has created a fabulous piece of jewellery with this 18ct gold disc and black diamond bracelet and its sure to take your breath away once you have it on your wrist. A …
[Continue reading: Laura Gibson 18ct gold disc and black diamond bracelet]
Top Ladies Birthday Jewellery
Top Mens Birthday Jewellery
---