Christening Jewellery
Christening of infants is a ceremony usually held in a church to welcome the child into Christian faith and his/her family.
It has been the tradition to present Christening gifts like jewellery to the infant on this ceremony since the ancient times. Queen Elizabeth is said to have given the Wild Jewel containing the Queen's portrait in turquoise as a christening present to her family member.
What to know when buying Christening Jewellery
Christening jewellery in silver or sometimes gold is generally presented to baby girls rather than baby boys being baptised. The most common christening jewellery is the chain and silver cross. It can be worn all the time by the child and be a lifetime treasure symbolizing the family's affection for the child.
A St Christopher necklace is ideal christening jewellery that can be worn all the time offering protection against evil to the child in his/her life. Make sure that 100% sterling silver is used in the jewellery for durability. Adjustable chains will allow the child to wear them even when he/she grows older. Silver Celtic cross pendants or pendants with religious prayers are gifts well suited to the occasion.
Silver bracelets and hinged silver bangles permitting daily wear make great christening jewellery. Gifts like silver charms that can be attached to bracelets have the big advantage that they won't outgrow the child.
Christening jewellery like lovely pearl earrings or silver studs can be teamed up with exquisite outfits when the child attends parties or social functions. Earrings or rings with the child's birthstone will be suitable for everyday wear bringing the child the much needed stroke of lady luck each day.
Personalizing the christening jewellery with custom made jewellery where pendants have pictures of the child or bracelets have his/her name engraved on it adds a personal touch to the gift. Make sure you buy high quality jewellery so that the child does not suffer skin problems on wearing them.
Where to buy Christening Jewellery ?



---
Latest Christening Jewellery Reviews
Check out our reviews of the latest Christening Jewellery hand picked by our expert editorial team.
Feeling unsure about which gift to get for a Christening event? Check out our top picks for September, to make sure you make the parents proud.
Astley Clarke Little Boy Pendant in 18ct gold and diamonds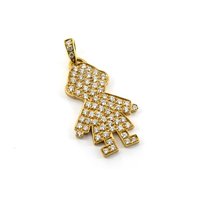 This super sweet little boy pendant is hand made in Italy by jewellery designer …
[Continue reading: Christening Jewellery]
Top Ladies Christening Jewellery
Top Mens Christening Jewellery
---