Fashion Jewellery
Fashion jewellery is another word for costume jewellery. Costume jewellery, not cheap jewellery. It is the look of today. What are the stars wearing? What looks good and what is approved by all is high fashion at a reasonable price.
Without this type of jewellery we would all walk around sporting Mickey Mouse watches and giant hoop earrings.
What to know when buying Fashion Jewellery
While these were popular styles years ago, they may not make it in the fashion world today. This type of fashion or costume jewellery can be bracelets, rings, earrings, watches, pendants, necklaces or anklets (depending on the season). Fashion jewellery is not limited to gold or silver. It can be hemp, tweed or any other fashionable piece used for making the jewellery of today. Jewellery with fake accents of turquoise, ruby, diamond, emerald or any type of daring look can also be seen as fashion or costume jewellery. Even seasonal or oversized pieces can be classified this way. Large hair pendants and brooches can add that little something extra to your party look. Plus jewellery made with simple plastics can be used for fashion jewellery.
Online shopping for fashion jewellery is an easy way to enhance your jewellery collection. Check out our recommended jewellery retailers for the best fashion jewellery, these sites have a massive selection of fashion jewellery for every occasion. Everyday wear and seasonal jewellery can both be purchased through these two sites.
Armani and Donna Karan have speciality jewellery selections to make anyone scream with delight. Wearing top designer jewellery can make anyone feel like a million bucks. Also the selection of accents for jewellery is amazing at this website. There is topaz, pearl, sapphire, etc. The selection of earrings is massive. Two great selections would be clip on, for those not ready for a permanent earring hole or chandelier earrings that create a show stopping entrance at that annual Christmas party.
Where to buy Fashion Jewellery ?



---
Latest Fashion Jewellery Reviews
Check out our reviews of the latest Fashion Jewellery hand picked by our expert editorial team.
This summer its all about disposable, stainless steel jewellery, especially if you're travelling and don't want to worry about your precious jewellery being damaged or stolen at the beach. Check out our top pics below:
ck Wish stainless steel necklace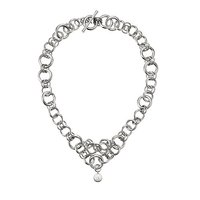 Expect nothing but creativity, class and style from the Calvin …
[Continue reading: Stainless Steel Jewellery Spotlight]
Top Ladies Fashion Jewellery
Top Mens Fashion Jewellery
---