Wedding Jewellery
Weddings only come once in a person's life and it has to be just perfect. The jewellery should be just as memorable as the day itself.
Wedding jewellery is meant to complement the bride and groom and not take away from the overall beauty of the day or those who are a big part of the wedding. This meaning the groom and especially the bride to be.

What to know when buying Wedding Jewellery
For men the jewellery for the big day includes cufflinks, an engagement ring and perhaps a necklace given by his bride to be. Nothing too over exaggerated or off the colour scheme of the wedding. Bracelets may also be worn as well as other rings as long as the bride approves.
She has been waiting for this day and it had better be perfect. The bride's jewellery also includes an engagement ring that may very well match the grooms. Her ring would be smaller than his, but the diamonds would be more prominent or there may be more colours in hers, and the actual wedding rings should compliment these two very nicely. We all know that we will see those beauties later on in the ceremony. The bride to be may also wear pearl earrings and/or a pearl necklace to accentuate the dress. Pearls are a classic beauty and they go hand in hand with weddings. Crystal drop earrings can also be worn, especially if the bride's hair is worn up. Tiaras with precious gemstones or birthstones added to them and charm bracelets can add elegance and create memories with just the right amount of sparkle. The charm bracelet can be added to as the marriage ages and the years are celebrated. The day will be remembered forever…and so will the jewellery.
Websites are in constant work to keep brides and grooms coming to their websites. Getting their names mentioned in a wedding is the best advertisement that any company can ask for. Astley Clarke has no other than wedding extraordinaire Vera Wang to help weddings along in the most elegant of ways.
Eternity rings can be bought and worn forever and may not even require a ceremony. These types of rings can be fully encased with diamonds or half encased with precious gemstones on one side.
Weddings are forever and the jewellery should hold the same promise. The look will be timeless and never go out of style.
For the most beautiful wedding jewellery, check out our recommended retailers which have a large range of quality jewellery and excellent after care service. Both offer wide selections with gift sets, men's jewellery as well as women's and children's, jewellery boxes and seasonal jewellery.
Where to buy Wedding Jewellery ?



---
Latest Wedding Jewellery Reviews
Check out our reviews of the latest Wedding Jewellery hand picked by our expert editorial team.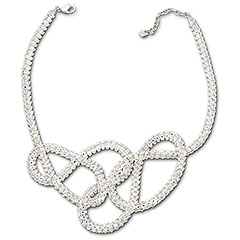 Swarovski Champagne Necklace
This 40 cm necklace by Swarovski will sit so perfectly on your collarbone that it will lengthen your neck and make it look long and slender. This Swarovski Champagne Necklace is a great accessory to wear for an evening out. It even works exceptionally well with an …
[Continue reading: Swarovski Champagne Necklace]
Top Ladies Wedding Jewellery
Top Mens Wedding Jewellery
---