Bangles
The simplest of jewellery is the bangle. Since the times of ancient Egypt, gold bangles have adorned the wrists of powerful men, beautiful women and young girls.
From intricate patterns to a simple band of gold, the bangle is versatile and lovely gift for someone of any age.

What to know when buying Bangles
From a tiny single band around the arm of an infant to several brightly coloured bangles up the arm of a lady; the bangle looks great on anyone. Bangles can be made of a variety of precious metals. They can be casual or dressy and can be worn on most any occasion. Bangles never go out of style. Bangles can be a loose solid band or a tighter fitting band fitted with a clasp.
When selecting a bangle, keep the size of the wearer in mind. Bangles for small children should be tight enough so as not to come off the wrist but loose enough to allow for circulation and a bit of growth. Tiny gold bangles can be passed down to family infants over time and are a wonderful start to family heirloom jewellery. Thicker bangles can be engraved to commemorate a special occasion or event in a person's life. Patterns of bangle jewellery can carry significance of ancestral symbols or religious beliefs or they can simply carry an intricate design that sends a single message of beauty. Children may remember a parent, aunt or grandparent by the sound their bangle jewellery always made as they moved their arms. Since it can be worn every day, the bangle can become a significant feature of a person's persona. For this reason, one should also consider the sound the bangles make when stacked together.
If bangles are intricate, they should carry some significance as they are bound to become conversation pieces. "I got this from my aunt, who was from Ireland and these are Celtic symbols", "I purchased this in Egypt and it is an ancient talisman for eternity", etc. Or perhaps you would prefer simple, eye-catching beauty. Either way, the bangle is can complement the personality of anyone.
Where to buy Bangles ?



---
Latest Bangles Reviews
Check out our reviews of the latest Bangles hand picked by our expert editorial team.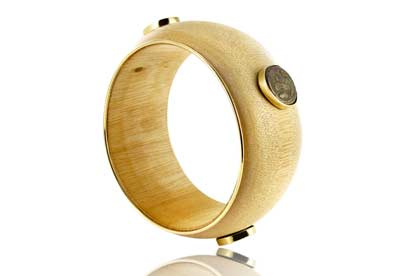 Nazanine Tassoudji Light wooden bangle with 18ct gold and antique coins
If you're a woman who sometimes develops a skin irritation to metals, especially once the temperatures rise, then you'll like this light wooden bangle with 18ct gold and antique coins. It's made out of varnished wood and measures 35 …
[Continue reading: Nazanine Tassoudji Light wooden bangle with 18ct gold and antique coins]