Bracelets
Bracelets have been worn as far back as ancient Egyptian and Roman times.
In fact, the Egyptian Scarab bracelet is frequently used as an icon of ancient Egypt, with its motif of rebirth being a notable theme in Egyptian lore. Worn by both men and women, early bracelets were made of wood, stone, bones, and string. They became more elaborate in Roman times, and tended to be made of glass or stone and contained some gemstones.
What to know when buying Bracelets
Today's bracelets come in a variety of styles, including charm bracelets, bangles, tennis bracelets, and beaded styles. The array of materials used to construct these bracelets is endless, with many made of precious metals and gemstones. One of the most delightful types of bracelets is the charm bracelet. These are popular gifts for children or adults, and consist of a link bracelet with an array of different charms attached to it. The charms can be chosen according to the interests of the receiver, and most jewellers carry a wide array of charm options. Bangles are made of any solid object, most commonly gold or silver, but also glass or wood. They can be set with gemstones to form designs or painted or left unadorned. Tennis bracelets most often consist of a chain of diamonds, but can also be made of other gemstones. Legend says they are called this because tennis pro Chris Everett was playing a game and lost her diamond bracelet, forcing her to stop playing until she located it. Beaded bracelets are made of different types of beads, some of which are made of semiprecious gemstones.
Regardless of the type of bracelet chosen, your jeweller should ensure that the finest workmanship is used in the construction of your bracelet. Bracelets are an easy to wear fashion statement which is sure to add pizzazz and flare to a woman's basic style.
Where to buy Bracelets ?



---
Latest Bracelets Reviews
Check out our reviews of the latest Bracelets hand picked by our expert editorial team.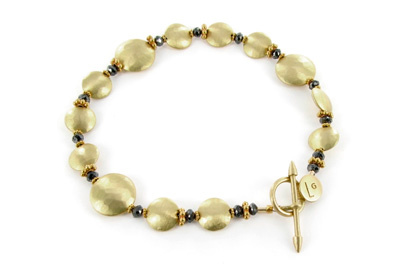 Laura Gibson 18ct gold disc and black diamond bracelet
Laura Gibson, one of America's most celebrated jewellery designers, has created a fabulous piece of jewellery with this 18ct gold disc and black diamond bracelet and its sure to take your breath away once you have it on your wrist. A …
[Continue reading: Laura Gibson 18ct gold disc and black diamond bracelet]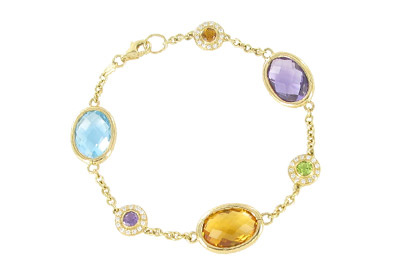 Kiki McDonough Scheherazade gemstone bracelet in 18ct yellow gold
The cheerful colours of this beautiful gemstone bracelet are sure to raise your spirits whenever you put this fabulous piece of jewellery on. Not only does it look great, but the Scheherazade gemstone bracelet in 18ct yellow gold is made by …
[Continue reading: Kiki McDonough Scheherazade gemstone bracelet in 18ct yellow gold]