Cufflinks
The main idea of cufflinks has been around for hundreds of years.
Originally, men needed to secure the sleeve at the wrist by inserting a "button" through the holes on the cuff in order to bring the cuff together. There were and still are a variety of ways this is done. Typically, these "buttons" were made of metals, and then later small stones were added to them.
What to know when buying Cufflinks
Cufflinks are normally seen on men (but in more recent times on women, as well) wearing formal business attire, tuxedos, evening wear and sometimes cufflinks are seen on men wearing casual wear as well. As one can see, cufflinks go from the everyday to formal occasions, such as weddings. The uses for them are endless.
When deciding to purchase cufflinks, there are a few things to remember; do the cufflinks match most of your suit styles and colours, do the cufflinks coordinate with your other pieces of jewellery (watches, rings, etc.), and which style of cufflinks would one prefer (single-sided cufflinks, double-sided cufflink, etc.). In addition, the size of the cufflink should be large enough in order prevent the link from falling out of the cuff.
The quality of cufflinks varies as with any other piece of jewellery. One should pay attention to the quality of metal and stones used to make the cufflinks. How the cufflinks are produced and what techniques were used are also indicators on how well made they are. Also, whether or not a hard-enamelled design was used on the links and not cheaper quality enamel.
Overall, one can show their individual style and taste by selecting the appropriate cufflinks. From platinum cufflinks to diamond encrusted links, adding these to your wardrobe will give you a polished look and will make you stand out in a crowd, because of your attention to every detail!
Where to buy Cufflinks ?



---
Latest Cufflinks Reviews
Check out our reviews of the latest Cufflinks hand picked by our expert editorial team.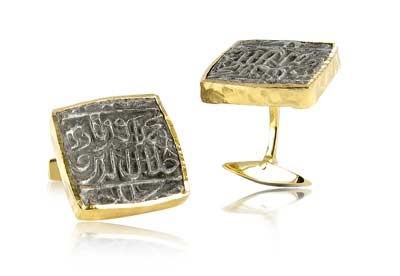 Nazanine Tassoudji 18ct white gold cufflinks with square Urdo coins
Any well-groomed man is sure to look great with a pair of carefully selected cufflinks. And these stylish designer cufflinks by Geneva based jewellery designer, Nazanine Tassoudji will serve that purpose very nicely. They're quality made out of 18 ct …
[Continue reading: Nazanine Tassoudji 18ct white gold cufflinks with square Urdo coins]
Roshini Sterling silver Mother of pearl cufflinks in lilac and white
The mother of pearl and hand enameled symmetrical detailed pattern on these lavender Roshini cuff links is a sight to behold. Today's modern man is more interested in fashion and quality merchandise than ever before, and these cuff links …
[Continue reading: Roshini Sterling silver Mother of pearl cufflinks in lilac and white]
Roshini Silver cufflinks with navy blue enamel scroll by Astley Clarke
Why buy plain run of the mill cuff links? These distinctive navy cuff links by Roshini feature hand enameling, substantial sterling silver, and an attractive scroll design. You are a man of quality and singularity—your clothes should reflect the …
[Continue reading: Roshini Silver cufflinks with navy blue enamel scroll by Astley Clarke]