Earrings
As one of the oldest forms of body alteration, the piercing of one's ears and their adornment with jewellery dates back to ancient Persia.
Earrings are mentioned throughout the Bible, with the earliest mention in the book of Exodus. They have been popular throughout history, although they were briefly replaced by clip-on earrings in the 1920's throughout the USA and Great Britain.
What to know when buying Earrings
When you decide to buy earrings, you will be presented with a dazzling array of choices. You must first choose a style; the most common ones available are the stud, the hoop, and the drop. Studs are small and tend to be the most convenient to wear, while hoops add some femininity to your look, and drops tend to be the most formal and elegant. Diamond or pearl studs are a classic, and go with everything, from casual jeans to a fancy gown. Hoops can be large and dramatic, or small and modest. Drops tend to be where earrings get the most fun, with style options ranging from diamond encrusted chandelier earring to simple silver teardrops.
Prices of earrings really vary, but you can expect to pay considerably more for items that are made of high quality materials. Jewellers might have an array of earrings set with crystals so that you can get the glitzy look without spending a lot of money. If you choose to have your earrings made out of real gemstones and metals, make sure you pay attention to the cut and clarity of the stones used. You should also make sure they use genuine gold, silver, and platinum to construct your quality earrings.
Earrings can really make an impact, allowing individuals to express their creativity and their femininity. They can soften the appearance of any outfit and really make a woman stand out. Women who dress conservatively or wear a uniform often use earrings to add a personal touch to their attire.
Where to buy Earrings ?



---
Latest Earrings Reviews
Check out our reviews of the latest Earrings hand picked by our expert editorial team.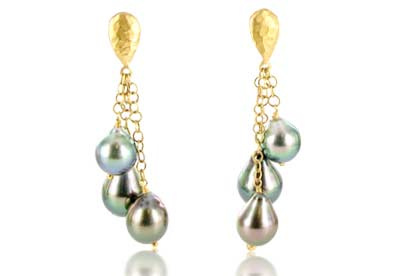 Talisman Baroque Tahitian pearl earrings in 18ct yellow gold
The natural beauty of these Baroque Tahitian pearl earrings in 18ct yellow gold by the Talisman team of designer jewellers in New York is breathtaking. Each Tahitian pearl is independently suspended from a fine gold 18 carat gold chain. The three …
[Continue reading: Talisman Baroque Tahitian pearl earrings in 18ct yellow gold]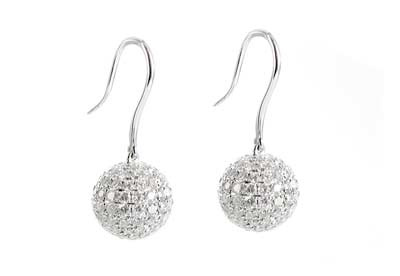 Takara Diamond Moon earrings in 18ct white gold
There's no denying the glamour that these Diamond Moon earrings in 18ct white gold ooze. They're a great accessory to spice up any formal wear for the party seasons. They'd also work well as bridal jewellery since the eye-catching spheres are pretty …
[Continue reading: Takara Diamond Moon earrings in 18ct white gold]