Rings
The ring dates back thousands of years and acts as symbol in many traditions. It is commonly know that the circle of the ring represents eternal love, because there is neither beginning nor an end.
The makeup of the ring has also evolved over time, originally constructed out of precious metals then later stones and gems were added to add more flair to the ring.
What to know when buying Rings
Many men and women wear rings for an array of occasions; anything from engagements to weddings, from anniversaries to other formal events. Most rings are worn every day and are usually small and simple in appearance. However, larger cocktail rings typically would be worn in the evenings.
A number of things should be kept in mind, while purchasing a ring. First and foremost, does the ring look good on the person who will be wearing it? One would want an appropriate size ring to fit the person's finger but also have an appealing look on the whole hand. Can the ring handle everyday wear and tear and can it be worn with ease? One should not forget the how the band is made, the quality of the stones and or gems, and the setting as well.
The elements of quality jewellery typically lay in the craftsmanship; specifically how the piece is assembled. Most rings should be made of high quality metal, preferably metals that are dense in nature, for example, platinum or perhaps titanium. In addition, if a ring is adorned with stones or gems, the cut, clarity and karat is extremely important with regard to the quality of the ring.
Rings, as like other jewellery can make an individual stand out. Perhaps the more unique the piece is or the colour of the stone could attract more attention to it. In addition, the larger the piece and or stone and the design of the ring could also make the person wearing the ring stand out.
Where to buy Rings ?



---
Latest Rings Reviews
Check out our reviews of the latest Rings hand picked by our expert editorial team.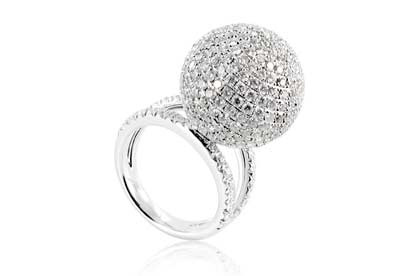 Takara Diamond Moon cocktail ring in 18ct white gold
Here's a highly fashionable ring that's sure to get noticed. This fantastic Diamond Moon cocktail ring in 18ct white gold is made to be eye-catching and is perfect for a glamorous evening where you're wearing you're finest and most seductive gown. …
[Continue reading: Takara Diamond Moon cocktail ring in 18ct white gold]