Mens Jewellery
Women are not the only ones getting in on all of the jewellery hype. Men are guilty of this obsession too.
Men look great with a little sparkle and all it takes is just one small trinket and they are set for the evening or that special occasion.

What to know when buying Mens Jewellery
The great thing about men's jewellery is that it includes money clips and tie clips. These are things that women get to buy for their loved ones, but they really never get to try them out.
Men's jewellery also includes the ever so sleek cufflinks, which enhance any suit on any and every occasion. Nothing looks better than a nice, well-groomed man with a good-looking suit on and a sparkle at the wrist. Cufflinks come in all shapes, sizes, colours and diamonds or no-diamonds. There is a set for each and every man.
Earrings, necklaces and bracelets are not only limited to women either. Men can wear them just as well as woman can. Just make sure that the earrings are studs or small hoops and that the rings are very manly as in not dainty or those with pink diamonds. Some men just cannot wear pink, though most of them look good in that colour. The rings should fit a man's hand and be bigger than what a woman would typically wear. Ultimately it is up to the jewellery wearer, male or female, to choose his or her own style of ring.
Jewellery for men runs relatively inexpensive, except for maybe cufflinks, as long as you stay in the silver range. Adding gold and/or diamonds can certainly up the price so be prepared.
Where to buy Mens Jewellery ?



---
Latest Mens Jewellery Reviews
Check out our reviews of the latest Mens Jewellery hand picked by our expert editorial team.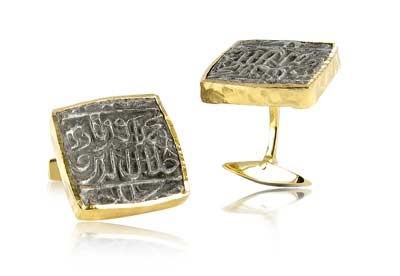 Nazanine Tassoudji 18ct white gold cufflinks with square Urdo coins
Any well-groomed man is sure to look great with a pair of carefully selected cufflinks. And these stylish designer cufflinks by Geneva based jewellery designer, Nazanine Tassoudji will serve that purpose very nicely. They're quality made out of 18 ct …
[Continue reading: Nazanine Tassoudji 18ct white gold cufflinks with square Urdo coins]
Roshini Silver cufflinks with navy blue enamel scroll by Astley Clarke
Why buy plain run of the mill cuff links? These distinctive navy cuff links by Roshini feature hand enameling, substantial sterling silver, and an attractive scroll design. You are a man of quality and singularity—your clothes should reflect the …
[Continue reading: Roshini Silver cufflinks with navy blue enamel scroll by Astley Clarke]
Top Mens Jewellery Necklaces
Top Mens Jewellery Bracelets
---