Accessories and Beyond Charm Bracelets
Published: January 18th, 2009
Accessories and Beyond are renowned for their use of intricate leather braiding in their bracelets. Fascinating charms decorate some of the braided leather cuffs which are available in a variety of colours.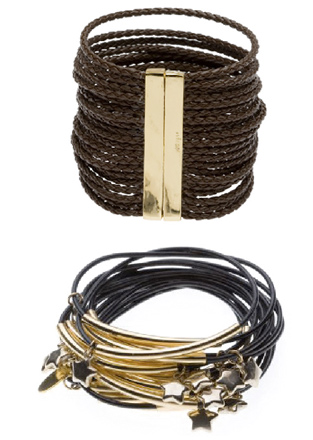 The Star Leather Bracelet is fashioned of multiple blue leather bracelets adorned with short silver sleeves and brightly polished silver star charms. The multiple Heart Leather Bracelet is made of silver leather contrasted by short gold sleeves and decorated with plump gold hearts.
Another offering in the charm bracelets is the bronze multiple Star Leather Bracelet made of natural leather and short bronze shafts with a dancing bronze star on each bracelet. Yet another variation of the blue multiple Star bracelet is one of blue leather and completed with short gold shafts and silver stars. A soft rose petal leather is used in a heart bracelet with gold metal sleeves and silver hearts.
For simplicity silver leather bracelets with silver shafts make a perfect accent piece as does the gold leather multiple bracelet with silver enhancement. Last, but certainly not least, is the blue leather multiple bracelet cuffed in gold with one single, flat gold charm. All bracelets measure approximately 6.8cm in diameter but due to the nature of leather there could be small variations.
Check out the full jewellery collection here.


Recommended Jewellery to Buy today
---