Hottest Agrigento Jewellery Designs
Published: February 3rd, 2010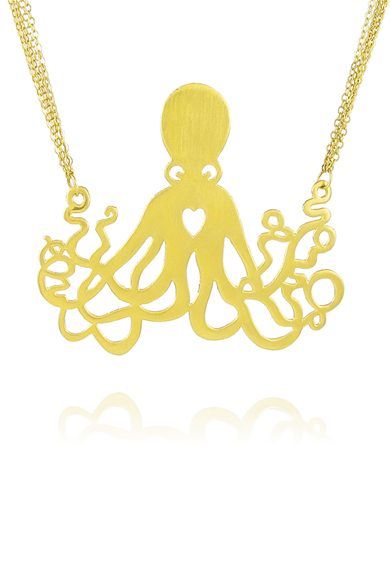 Agrigento, One of the Best Jewellery Designers
Alissa Frazer is the one who created Agrigento jewellery designs. Every pieces of jewellery that Alissa is creating are truly genuine and are considered a must have stuff for women.
Agrigento is truly well-liked by most women not just in Europe but almost all over the world and this is due to the fact that each piece of this designs is:
Hand carved
Hand formed
Hand polished
Refined in a duel high polish
Satin brushed finish
Who wouldn't get attracted with beautifully and perfectly designed jewellery pieces by the way? Agrigento jewellery pieces are not only preferred by ordinary citizens but as well as popular personalities like celebrities, singers and commercial models!
Some of the most popular designs of in Agrigento include:
Love bird ring in 18k Gold Vermeil with Diamonds & Pearls
Love bird earrings in 18k Gold Vermeil with Diamonds
Liberty 18k Gold Vermeil Butterfly ring
More about Agrigento Designer, Alissa Fraser
Alissa works with most excellent quality metals such as sterling silver, platinum or yellow gold that highly emphasize brilliant and fairytale-like elements of her designs. Her extraordinary collection reveals her depth passion for art, nature and music. Due to her designs popularity she continue to produce gorgeous contemporary jewellery pieces that are really elegant and wearable.
Alissa named her collection after a Sicilian town where her loved ones came from. Her family legacy is extensively signified in her jewellery designs.
Agrigento designer always live up to this principle; "My inspiration comes from my life, my dreams, my culture, my family… It comes from within me!
Visit this for more Agrigento Jewellery Designs.
Liberty Butterfly Earrings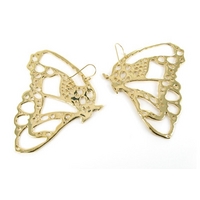 These stunning large butterfly earrings are by the Agrigento design team in New York. Hand carved, formed and polished, they are crafted from 18ct gold and sterling silver vermeil and inspired by the gorgeous silhouettes of nature. Measuring an impressive 75mm by 54mm, these unique designer earrings are finished in a high shine finish on one side and a brushed satin finish on the other. Available in the UK exclusively from the Astley Clarke online jewellery boutique.£125.00
Liberty Butterfly Earrings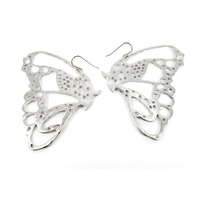 These stunning large butterfly earrings are by the Agrigento design team in New York. Hand carved, formed and polished, they are crafted from platinum and sterling silver vermeil and inspired by the gorgeous silhouettes of nature. Measuring an impressive 75mm by 54mm, these unique designer earrings are finished in a high shine finish on one side and a brushed satin finish on the other. Available in the UK exclusively from the Astley Clarke online jewellery boutique.£135.00
Vicare Necklace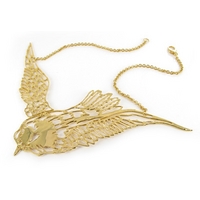 Made in 18ct yellow gold and sterling silver vermeil, this fabulous statement necklace is by the Agrigento team of designer jewellers in New York. Inspired by the silhouettes of nature, this designer necklace features two intricately hand cut designs, linked together to form a fabulous soaring gold bird necklace. Measuring approximately 19 inches in total length, this piece is finished with a petite lobster clasp (Bird design measures approximately 2cm from wing tip to wing tip). Finished with a high shine on one side and a brushed satin finish on the other, this necklace looks fabulous worn on either side.This is a truly spectacular piece of designer jewellery, available in the UK exclusively from the Astley Clarke online jewellery boutique.£225.00
Large Koi Fish Earrings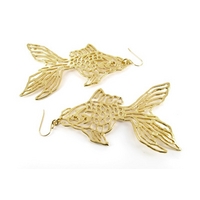 These stylish large Koi fish earrings are by the Agrigento team of jewellery designers in New York. Handmade in 18ct yellow gold and sterling silver vermeil, these stylish gold earrings measure an impressive 10cm in length by 5.5cm in width. Available in the UK exclusively from Astley Clarke, these are a truly unique and eye catching pair of designer earrings.£125.00
Medium Koi Fish Earrings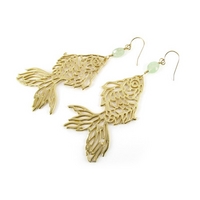 These stylish medium Koi fish earring are by the Agrigento team of jewellery designers in New York. Hand made in 18ct yellow gold and sterling silver vermeil, these unique gold earrings measure 9cm in length by 3.5cm in width and are finished in a high shine gold on one side and a brushed satin finish gold on the other. Detailed with a single faceted phrenite, these unique gold earrings are available in the UK exclusively from the Astley Clarke online jewellery boutique.£115.00


Recommended Jewellery to Buy today
---