Alexa Garner Sidaris
Published: February 12th, 2010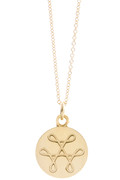 As fashion jewellery continues to bloom and reach its potential a lot of professional designers have also arrived delivering nothing but hot designs of jewellery pieces that everyone likes especially individuals from movie and modeling industry.
Alexa Garner Sidaris greatest inspiration in her designs is land, sea and some interesting and spectacular places she has visited. Another essential thing that inspired her is her unconditional love towards diamonds! Her designs are one of a kind, astonishing and lasting! No doubt that a number of popular personalities from the movie industry keep on acquiring her timeless jewellery designs.
Nowadays, people prefer to engage with fashion jewellery that is lasting and of high quality. For modern generations, jewellery pieces are not just an accessory but precious possessions, a property and an investment!
It is known by many that nowadays there are hundreds and even thousands of companies who produces fake jewellery designs, and sadly these companies are not yet sought due to some unfavorable and uncontrollable conditions. However, genuine makers of fashion jewellery have already stated and cautioned the public to be very careful when buying jewellery pieces. It feels bad to be fooled by imitators especially these days that making money is no ordinary thing at all; it's not as easy as everyone wants them to be.
Alexa Garner Sidaris passion for precious gemstones is revealed in her one-of-a-kind way of putting diamonds within her designs, making her jewellery truly brilliant and unique!
Alexa's signature pieces are certainly her wonderful evil eye pendants with sapphire and diamonds or turquoise in 18 carat yellow, rose and white gold which are available in different jewellery shop and even online!
Nazaire Necklace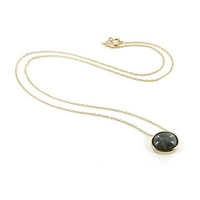 This pretty 18ct yellow gold and labradorite necklace is by one of Manhattan's most fashionable designers, Alexa Garner Sidaris. Measuring 11mm by 9mm, this stylish piece features a deep grey / green coloured oval labradorite cabochon bezel set in 18ct yellow gold. The designer pendant measures 5mm in depth, and is suspended in two places from a fine 16inch gold chain. Available exclusively from the Astley Clarke online jewellery boutique, this pretty labradorite necklace would make a wonderful birthday gift.£385.00
Isabelline Necklace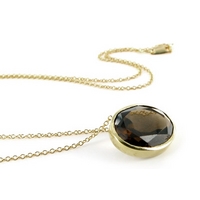 This stylish 18ct yellow gold and smokey quartz necklace is by one of New York's most fashionable designers, Alexa Garner Sidaris. Measuring 15mm by 12mm, this stylish oval pendant features a stunning deep brown faceted smokey quartz, bezel set in 18ct yellow gold. This designer pendant measures 7mm in depth, and is suspended in two places from a fine 16 inch gold chain. Available in the UK exclusively from Astley Clarke, this pretty smokey quartz necklace would make a wonderful birthday gift.£385.00
Sabre Pendant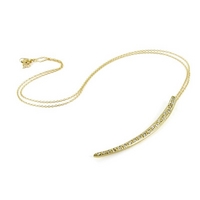 This exquisite diamond pendant is by one of New York's most talented jewellery designers; Alexa Garner Sidaris. Measuring 48mm in length and 3mm in width, this stylish 18ct yellow gold sabre pendant features a row of white pave diamonds along the full length of the drop, .23 carat total diamond weight. Suspended from a fine 16inch yellow gold chain, this stylish piece would make a stylish addition to any collection of fine jewellery. Available exclusively online from the Astley Clarke online jewellery boutique.£995.00
Adelais Earrings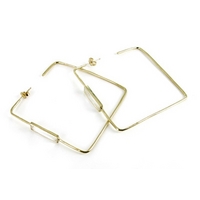 These super stylish 18ct yellow gold and crystal hoop earrings are by one of New York's most fashionable designers, Alexa Garner Sidaris. Featuring a unique square shape, these 18ct gold earrings feature a stunning bezel set crystal baguette measuring 17mm by 5mm. The open back bezel setting allows the maximum amount of light to reflect through the facets of stone, giving these unique designer earrings a fabulous sparkle! Measuring 5cm by 5cm, these hoop earrings are a fabulous twist on a classic design and are available online exclusively from the Astley Clarke jewellery boutique.£715.00
Adelais Ring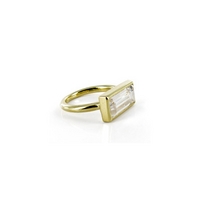 This stylish 18ct yellow gold and crystal cocktail ring is by one of New York's most fashionable designers, Alexa Garner Sidaris. The stylish 18ct yellow gold band measures approximately 2mm in width and features a stunning bezel set crystal baguette measuring 15mm by 8mm. The open back bezel setting allows the maximum amount of light to reflect through the facets of stone, giving this classic ring a fabulous sparkle! Perfect for everyday wear, this stunning crystal ring is available online in exclusively from the Astley Clarke online jewellery boutique.£715.00


Recommended Jewellery to Buy today
---