Alexis Bittar Necklaces
Published: January 30th, 2009
From selling his jewellery on the streets of Soho, to being sought after in a global community of designer jewellery buyers, Alexis Bittar has received such prestigious awards as the Accessories Council Rising Star. From his Brooklyn based studio he employees skilled artistians to hand craft his designs.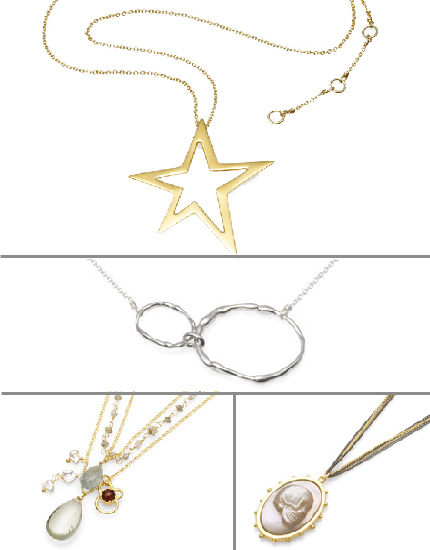 Check out this Silver Liquid Necklace, a stunning piece showcasing two liquid silver hoops joined together by a small silver ring and attached to a silver chain. The chain measures 48cm in length. Attached to the hook at the top of the chain is another length of silver braided to the main piece and cascading downward encompassing three silver, circular, loops at spaced intervals. The overall effect is one of liquidity and gracefulness whether the jewellery is viewed from the front or the back.
Bittar's Geometric necklace is a definite 'out of the box' design. A 70cm gold chain ends with a three tiered golden curve design and a protruding gold ball. Certainly a conversation piece, thought provoking as well as beautiful. The Gold Liquid Metal Triple Link necklace is fashioned of 18K gold plate displaying three liquid gold circles joined together and attached to a delicate gold chain. The necklace measures 46cm in length. Cut Out Star necklace is a free flowing design with a whimsical gold star cut out in the middle. The star is attached to a 47cm length chain which has the signature mark of another chain pouring down the back of the wearer with three evenly spaced gold links. The Skull is a long, multiple chain necklace featuring an opalite hologram of a human skull. Decided wicked and deliciously wild.
Bittar's Three Strand Necklace is ablaze with rough cut diamonds, keishi pearl and green amethyst. Fashioned with a multiple gold chain this piece reaches the limits of originality. Diverse dynamite for the wearer who wants something different.


Recommended Jewellery to Buy today
---