Amazing Amelia Bea
Published: February 22nd, 2010
Amelia Bea is one of the most popular jewellery designers based in New York who have been creating jewellery pieces for ages now. Her jewellery designs are truly glamorous and one of a kind and highly focuses on the remarkable magnificence of gemstones. The stones utilized in Amelia Bea are featured in order that the maximum amount of light reflection would be very visible. With that the clear as well as colored gemstones that Amelia utilizes really looks amazing!
Amelia Bea also features elegant pendant that highly captivates everyone! A clear and plain droplet of quartz crystal hung on a necklace is carefully crafted from black spinel stones which are perfectly wrapped with precious and elegant sterling silver wire. Another pendant designed by Amelia Bea is a faceted luminous moonstone that is suspended on a string of little white freshwater pearls, and is hand knotted into white, simple and elegant silk thread. With Amelia Bea, you'll surely captivate attention even when you are in the crowed!
Amelia Bea's jewellery pieces also go well with a lot of outfit, and is considered as a must have item in your closet. Apart from that Amelia's jewellery design can also be a wonderful and excellent gift that you can give to a good friend, to your older and younger sister, work mates, mother and it can also be a good material for precious and one of a kind giveaways.
Mirla Earrings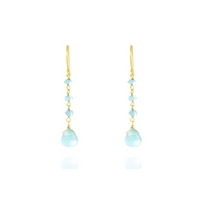 These beautiful blue chalcedony and apatite earrings are by the Amelie Bea team of designer jewellers in New York. A simple and very flattering shape, these designer earrings feature a single faceted chalcedony drop beneath four small blue apatite beads. Made in 14ct gold and sterling silver vermeil, these designer earrings measure 42mm in total length and approximately 8mm in width. Available exclusively from the Astley Clarke online jewellery boutique.£175.00
Olivie Bracelet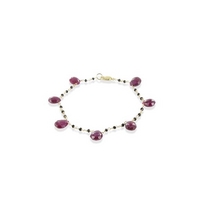 Ruby briolette bracelet with faceted black spinel in 14ct yellow gold vermeil. This pretty bracelet is from the talented New York design house Amelie Bea and is available exclusively from Astley Clarke. Featuring small faceted black spinel hand knotted on fine gauge gold wire, interspersed by deep pink ruby briolettes. This elegant designer bracelet measures approximately 7 ½ inches and would make a lovely gift.£325.00
Genevieve Necklace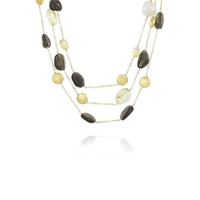 Three strand necklace with smoky quartz and citrine from the wonderful New York design team behind Amelie Bea, available exclusively from Astley Clarke. Featuring three strands of large smoky quartz and citrine nuggets interspersed with discs of brushed 14ct gold and sterling silver vermeil. The biggest nugget measures 12mm by 15mm and the gold discs measure 9mm in diameter. The longest strand measures 19 inches sitting elegantly around the neck, and the beautifully contrasting colours are subtly emphasised by the surrounding light.£395.00
Alice Earrings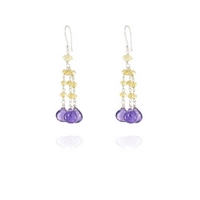 Triple strand citrine and amethyst drop earrings from the talented New York design team, Amelie Bea. Available exclusively from Astley Clarke these delightful hand made sterling silver earrings feature three strands of small faceted citrine finished with amethyst drops. Measuring 48mm including the ear wire, the amethyst drops measure approximately 7mm by 7mm and are hand knotted in a fine gauge sterling silver wire. A stylish colour combination, these lovely earrings make a thoughtful gift.£95.00
Kaia Earrings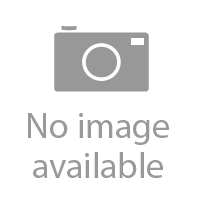 Stylish earrings in garnet and citrine from the New York based design team behind Amelie Bea, available exclusively from Astley Clarke. Perfect to add a touch of glamour to your outfit, these designer earrings feature a citrine briolette suspended beneath a garnet which in turn drops from a 14ct gold stud. Hand made in 14ct yellow gold, these pretty earrings have a total drop of 31mm. The citrine briolette measures 6mm by 14mm and has a beautiful translucent quality.£135.00


Recommended Jewellery to Buy today
---