Aris Geldis Necklaces Collection
Published: February 12th, 2009
Greek born Aris Geldis has a self expressed passion for 'refined wild stuff'. His creations are rich in strength and nonpareil to the point of transforming his jewellery wearers into his version of Greek goddesses.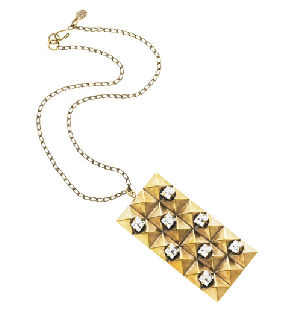 The Gold Rectangle Pendant with Crystals necklace features an oversize, husky gold pendant with angular groves studded in brilliant crystal and suspended from a classic 50cm in length gold chain.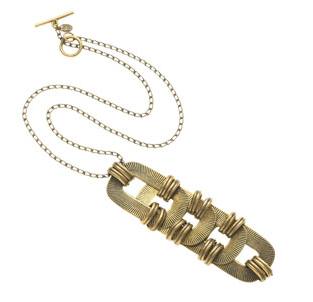 Also Aris Geldis has released a charming Pendant with Links that is both bold and baroque. The necklace features a brass chain and two pendants, one ribbed and the largest beaded, accented by two impressive oblong crystals. A fantastic piece of jewellery for any woman's collection.
A long Pendant with Chain features four ribbed pendants conjoined by brass rings on a long, 60cm in length, brass chain. A heavy silver chain with three silver links and a large, mirrored, Swarovski crystal pendant makes up the Chain Necklace with Chunky Circular Crystal.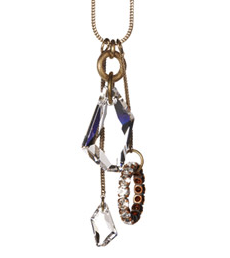 This one also comes in gold plate Triple Crystal Necklace is refreshingly delicate with its long brass chain and a trio of crystal pendants. One is a tiny tear drop crystal next to a larger one and the last a beautiful Swarovski crystal circle. A Simple Chain Choker made of two types of chain and fastened with a silver hook makes an elegant understatement in fashion jewellery. The Crystal Pendant Necklace showcases a heavy beaded silver chain with four silver links and a large, single crystal pendant measuring just over 13cm in length. The Brass Necklace with Crystal Pendant is a long brass chain looping over a circle of clear Swarovski crystal and surrounded by smooth rounded gold. The Long Brass Necklace is an ingenious creation of a brass chain with two interlinked ovals.
Find out more about Aris Geldis, and check out her collection here.


Recommended Jewellery to Buy today
---