Delaila Dita Necklace and Earring Set
Published: January 21st, 2009
Delaila's sense of adventure and extensive travel has inspired her to create extraordinary sets of jewellery. Her favorite materials include plexiglass, metal and Swarovski crystals. Delaila's collections can be found in upscale jewellery establishments all over the world.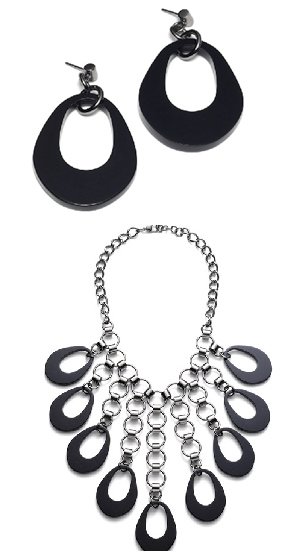 The silver plated Dita necklace is a vision of sweeping elegance as the silver chain descends to graduated silver rings ending in nine black Lucite hoops. The chain measures 50cm in length with the longest hoop 16cm and the shortest 8 1/2 cm in length. This is the ideal piece to showcase the bare neck and shoulders adding visual dimension to the area. The Dita earrings, silver plated with black Lucite hoops completes the ambiance created by the Dita necklace with their understated distinction.
Black and silver are the basis for this design and speaks strongly of gentle refinement and confidence,yet an aura of mystery. The visual line of the Dita necklace is carried through the bold flare of chains, rings and hoops challenging the viewers interest. The shiny gloss of the matching earrings distracts and distorts adding again to the impact of the set. One is transported to Pakistan, by way of Italy, in this must have combination of captivating tastefulness.
Check out the full collection here.


Recommended Jewellery to Buy today
---