Lisa Levine Necklaces and Bracelets
Published: January 15th, 2009
Lisa Levine takes her inspiration from the deserts of Mexico. Her designs give the wearer a sense of strength, and connectivity with earth elements as she incorporates quills and feathers in her classically modern pieces. Her use of chains symbolizes the links of nature and woman's own inherit courage.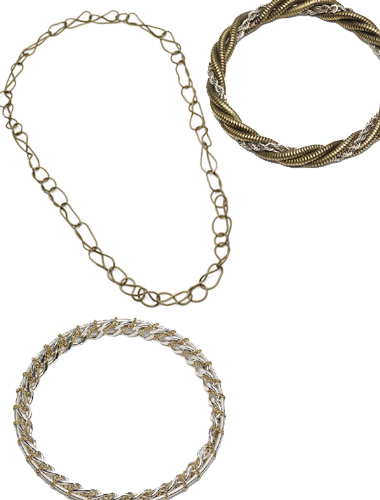 A magical charm lies within the Lisa Levine necklace and bracelet collection. A charm so akin to nature you can feel its vibrations through the coolness of the intriguing use of chains.
For instance, the Medusa creation. Medusa, a sea nymph, beautiful Greek goddess, who offended her sister, Athena and was doomed forever to wear a hairstyle of snakes. The Medusa necklace is a long, entwined chain of vintage brass not unlike the twisting of the goddesses locks.
Chameleon is three intertwined chains of vintage brass and sterling silver, their married textures producing flashes of color, changeable like the chameleon. The Viper is a long necklace, 81cm, fashioned in thick vintage brass, ribbed like scales, a thin, gold vermeil chain 'snakes' around the brass creating the illusion of stripes. Vertebrae is an intricate creation with multiple chains of varying thickness woven around one thin chain. It is fashioned in sterling silver and vintage brass.
The Lisa Levine bracelet collection compliments her line of necklaces with the Chameleon Bangle crafted from strands of vintage brass twisted together, a sterling silver chain running through. There are two vertebrae bangles, one a design of heavy and thin vermeil chains braided around a smooth band. The other dainty sterling silver chains looped around a polished silver band. Python is a bracelet of multiple chains, vintage brass and sterling silver, in various weights coiled around each other to make a striking snake-like pattern.
Check out the full collection here.


Recommended Jewellery to Buy today
---