Melissa Joy Manning Necklaces
Published: January 27th, 2009
From Oakland, California these empowering, joyful pieces reach a world wide fashion savvy audience. Ancient wisdom, indigenous cultures, found objects, are all influences for her creations. She transcends the ordinary with a deep belief in the spiritual worth of talismans and incorporates that philosophy in her work.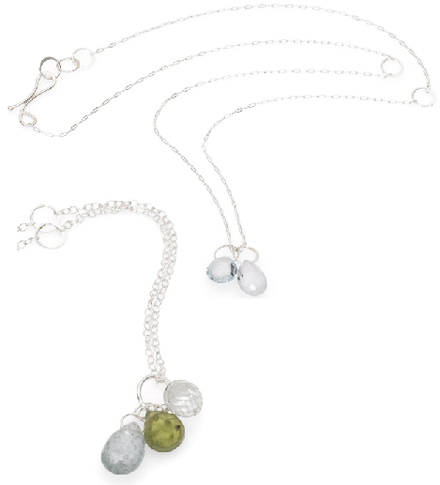 The Tiny Chain Necklace from Melissa Joy Manning is a superb piece of jewellery. Two petite aquamarine drops, like globes of glistening rain, dangle on silver hoops at the end of tiny silver chain. Delicate and desirable this piece will grace your collection to be worn on days when lightness and daintiness is the order of your mood.
Melissa also designed a lovely Gold Triple Drop necklace which is an exquisite composition of gold chain, interspersed with golden rings, ending with three polished stones; a blue aquamarine, a clear opal and a deep blue kyanite. The kyanite and opal are on single gold rings attached to the main larger circle and the aquamarine dangles from two golden rings also descending from the defining circle.
The silver Triple Drop necklace is a delicate silver chain, interspersed with silver rings, ending with three gemstones, green aquamarine, vessiolite and moss amethyst. They are each attached to a central silver ring with one circle, and one with two circles. The fine pieces of jewellery are appropriate wear for day or evening, the light, especially candlelight catching the fire of the gemstones.


Recommended Jewellery to Buy today
---