The Astley Clarke Sale
Published: December 24th, 2009

Get ready for some great sales and offers as 2009 comes to a close, with many jewellery boutiques offering some great pieces at discount prices.
Starting today, Astley Clarke is launching their famous winter Sale featuring fantastic deals on some of the most popular jewellery pieces this year.
The Astley Clarke Sale will run from mid day on the 24th Dec, until the 24th of January 2010 – But hurry, as they have limited stock of the items on sale!
Click here to check out the Astley Clarke Sale!
For example a hot item this year which is available in the sale is the Polly Earrings from Monica Vinader:
Polly Earrings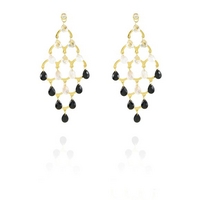 From the renowned London designer Monica Vinader these stunning new graduating Polly earrings have been designed exclusively for Astley Clarke. Made in 18ct yellow gold and sterling silver vermeil, the chandelier earrings feature a lovely wave in colour of rock crystal, moonstone and onyx briolettes. Each briolette measures approximately 5mm by 7mm, and the total drop of the designer earrings is 85mm. For the original diamond drop earrings, this beautiful monochromatic palette provides the perfect foundation to this season's wardrobe. These are normally £250 now £115!
The full list of designers on sale include:
Agrigento
Amelie Bea
Arunashi
Asha by ADM
Como Blonde
Dana Kellin
Gatsby
Laura Gibson
Mallarino
Missoma
Monica Vinader
Phillipa Holland
Pippa Small
and many more!
Click here to check out the Astley Clarke Sale!


Recommended Jewellery to Buy today
---