Important Things You Ought to Know about Designer Jewellery
Published: November 13th, 2010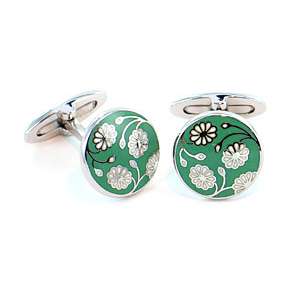 Jewellery or jewelry is a form of personal adornment, manifesting itself as necklaces, rings, brooches, earrings and bracelets. They may be made from any material, usually gemstones, precious metals or shells. They differ from other items of personal adornment in that it has no other purpose than to look appealing.
The reasons why jewellery is used for include: currency which indicates wealth display and storage; functional use like clasps, pins and buckles; symbolism that shows membership or status; protection in the sense of amulets and magical wards; and for artistic display.
A huge variety of jewelries is available in markets and it really takes serious efforts to choose which type of jewelry is suitable for you according to the given place and occasion. Most of the times, jewelry is quite expensive as it is usually made of precious elements, stones and metals. It requires rich experience and expertise to design and manufacture different jewelries. Jewelry is worn mostly by the women but a certain type of jewelry is also worn by men in some parts of the world. Women, however, are the ultimate target for the jewelry making companies and manufacturers as a glittering piece of jewelry attracts women to a great level.
No one can deny the charm of jewelries. For the coming Christmas, you can think about buying your friends fabulous pieces as the Christmas gifts. As for buying the right jewelries, you have to classify your friends into different groups. A piece of gorgeous jewelry can fully express your love and care to your friends and your friends would also appreciate your careful consideration. With the perfect gifts, your loved ones will remember this Christmas forever.
Sun Pendant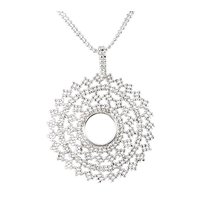 18ct white gold bead chain sun pendant by jewellery designer Carolina Bucci. 18ct white gold bead chain measures 16.5 inches and fastens with a small clasp. The sun pendant is 1 inch in diameter. Handmade in Italy by dedicated artisans, this piece is simply stunning, and can be worn with jeans, or dressed up for the evening.£860.00
Sun Pendant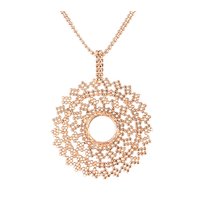 18ct pink/rose gold bead chain sun pendant by jewellery designer Carolina Bucci. 18ct gold bead chain measures 16.5 inches and fastens with a small clasp. The sun pendant is 1 inch in diameter. Handmade in Italy by dedicated artisans, this piece is simply stunning, and can be worn with jeans, or dressed up for the evening with equal success.£860.00
Woven Cuff in Turquoise Silk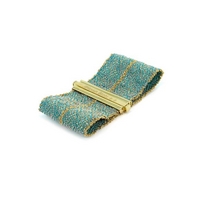 18ct yellow gold and turquoise silk hand woven cuff bracelet by jewellery designer Carolina Bucci. Measures 6 1/2 inches end to end, and is designed to fit the wrist snuggly, fastening with a simple solid 18ct yellow gold bar clasp. Handmade in Italy by dedicated artisans on a traditional loom with solid 18ct gold thread and turquoise coloured silks. This is a spectacular piece of jewellery reminiscent of vintage tapestries, and with a tactile quality which makes wearing the cuff exquisitely comfortable. You won`t want to take this piece off!£3330.00
Silver Moon Necklace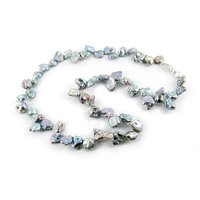 Pearl necklace with silvery grey cultured freshwater Keshi pearls from Manhattan Pearls. This designer necklace measures 16 inches in length and is made up of Keshi pearls in naturally varying shapes and sizes, resulting in a truly unique necklace. Keshi means `poppy seed` in Japanese, and Keshi pearls are so named because they are usually small. Unlike most cultured pearls they have no nucleus, and are 1% nacre. Because of this, Keshi pearls have an especially lustrous and shimmering surface quality and are available in a variety of unusual shapes. Perfect for any pearl lover who is looking for something a little out of the ordinary!£150.00
Long Florin Pearl Necklace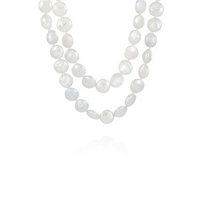 A wondrously long string of cultured freshwater coin pearls from the New York design house Manhattan Pearls, available exclusively from Astley Clarke. Measuring over 48 inches this pretty pearl necklace is hand knotted on silk thread and finished with a small sterling silver clasp. Each coin pearl measures approximately 12mm in diameter and has a rich creamy white lustre with subtle pink over tones. The perfect addition to your jewellery box, this versatile and modern take on the classic string of pearls can be worn doubled several times, and looks even more fabulous layered with additional pearls.£240.00


Recommended Jewellery to Buy today
---