R
Frenchman Laurent Rivaud designs R Jewellery. He has a long history in jewellery design and has been designing the jewellery collections of Vivienne Westwood since 1994. He is also a graduate of the Berçot Studio, has designed catwalk jewellery for Yves Saint-Laurent and Chloé, and has worked with Thierry Mugler for three years.
In 2003, Laurent Rivaud founded R Jewellery in London. The man prefers anonymity as the name of his company implies. But this in no way implies that his work is inferior to jewellery on the market by designers who have been crafting jewellery for longer than he. R Jewellery is superbly made and the fruit of a long and detailed crafting process.
What to know when buying R
First a drawing of the design is made. Then an original wax model is created before the actual piece of jewellery is crafted. The entire crafting of R Jewellery involves forgotten techniques to reproduce details in brand new pieces of jewellery to make them look much older than they are.
Design inspiration for R Jewellery comes from antique jewellery as well as religious imagery. The pieces blend tradition with a modern style to create jewellery that's classic but won't look out of place in this modern day.
R Jewellery has recently branched out into offering jewellery for men like cufflinks and pendants.
Where to buy R ?



---
Latest R Reviews
Check out our reviews of the latest R hand picked by our expert editorial team.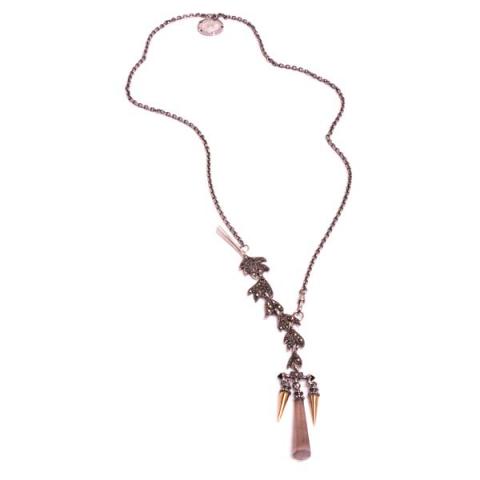 R Loyal necklace
The Loyal necklace from R Jewellery is a very unique piece of jewellery featuring a gothic inspired design and fascinating gold plated spears on the pendant. The pendant is striking and long. It's made out of agate stone. This agate stone pendant is accented by two dark …
[Continue reading: R Loyal necklace]


R Highness bracelet
This Highness bracelet from R Jewellery is appropriately named. You're sure to feel like royalty when you wear this stunning piece. It features contrasting dark sterling silver and gold plated chains. The gold plated chains are substantially made with sturdy links. Tiny marcasite stones accent the dark …
[Continue reading: R Highness bracelet]


R Highness necklace
A Highness necklace with dark sterling silver and gold plated chains with marcasite stone pyramid. Necklace fits like a choker and looks incredibly striking. Very fashionable piece for day or evening. Make a bold statement by wearing it with the matching Highness bracelet. Slide clasp to fasten. …
[Continue reading: R Highness necklace]


R Homeric necklace
This Homeric necklace from R Jewellery is a stunning, original piece of jewellery. Like all pieces in this jewellery line, the Homeric necklace is the result of a long, detailed crafting process. First a drawing was made of the necklace, and then an original wax model was …
[Continue reading: R Homeric necklace]


R Lady bracelet
Elegant in its simplicity, this lady bracelet by R Jewellery is a superbly crafted piece of jewellery. All jewellery made by the Frenchman, Laurent Rivaud, who owns this company are carefully thought out, sketched in detail and then moulded into wax before being set in metals and …
[Continue reading: R Lady bracelet]


R Heroine necklace
Here's a delightful necklace created by the French jewellery designer, Laurent Rivaud. He is the owner of R Jewellery and has been designing the jewellery collections of Vivienne Westwood since 1994. Rivaud is very detail oriented when creating his jewellery designs. First he draws a detailed sketch …
[Continue reading: R Heroine necklace]


R Holly necklace
This delightful long holly necklace by R Jewellery is sure to make a fashion statement. While it looks absolutely stunning, this necklace may not be suitable to wear for all activities or to all types of functions because of its length. It's made out of contrasting dark …
[Continue reading: R Holly necklace]


R Lust necklace
Inspired by ancient Rome, this lovely necklace from the R jewellery line is a striking piece of jewellery. R is a fairly new jewellery designer and has been on the market since 2003. Frenchman Laurent Rivaud, owner of R, has designed catwalk jewellery for Yves Saint-Laurent and …
[Continue reading: R Lust necklace]